Yuli is a Himpunan Wanita Disabilitas Indonesia (HWDI, Indonesian Women with disability Association) leader. Image: M. Nugie and Andito Wasi/Oxfam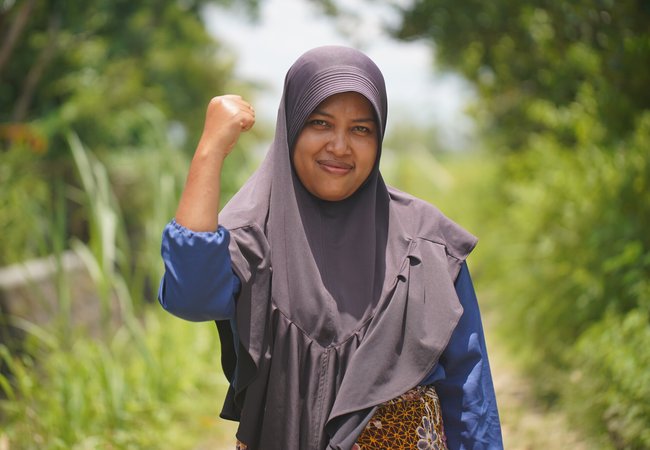 Annual Report and Accounts 2021/22
Last year, Oxfam and partners supported 8 million people to fight poverty.
With your support, we provided life-saving supplies to families hit by the world's worst conflicts and natural disasters. And we helped communities around the world get clean water running, earn a fair wage and campaign for change. Together, we are building a radically better world.
We are extremely grateful to the incredible generosity of our supporters and volunteers who share our vision of a fairer and radically better world. At a time of rising poverty at home and abroad, deepening inequality, and worsening climate change, their support has enabled Oxfam to stand with those facing poverty and injustice, and deliver life-saving and life-changing work that have reached eight million people around the world."

Danny Sriskandarajah, CEO, Oxfam GB
Oxfam in 2021/22
6.3million
In 2021-22 more than 6 million people were reached through our humanitarian work.
8million
Last year Oxfam and its partners supported 8 million people to fight poverty and build a better world.
46%
46% of the people we worked with in 2021-22 were women and girls.
Johnny and Juanita's story
Johnny and Juanita carry the deeply rooted Filipino tradition of respect for older people. So, they decided to take care of not one but two sick parents. They both take turns with household chores, farming, and caring for the elderly from dawn until midnight. Both Johnny and Juanita mentioned that it is challenging to balance work, household chores, and caring for sick family members.
With the cash for care work assistance, the couple used the money for the food, milk, medicines, and vitamins of their elderly parents to sustain them. This programme is run by Oxfam Philippines in partnership with Rural Development Institute of Sultan Kudrat (RDISK).
Johnny and Juanita, The Philippines. Image: Princess Taroza/Oxfam
It does not feel unmanly if I share housework with my wife. We are still equal. We need to work together and understand each other, and not to be apart until we grow old. Our love will still be the same."