Sami M Jassar/Oxfam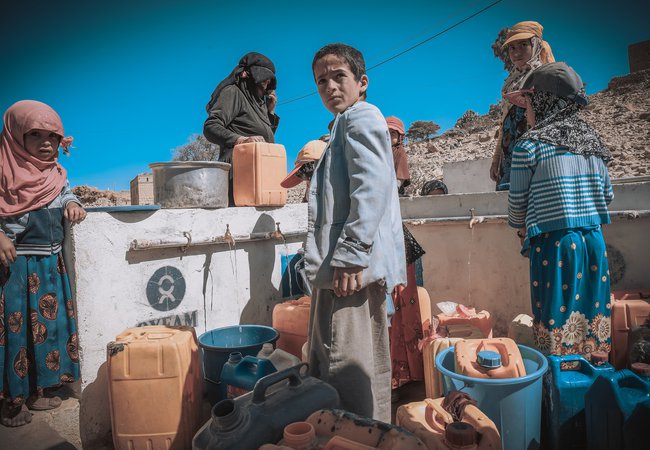 Supporting humanitarian emergencies
In 2017-18, Oxfam responded to 49 emergencies and delivered lifesaving aid to millions of people. Our emergency response partners, including IKEA Foundation, Unilever, Arup and Waterstones, help ensure we can respond immediately to humanitarian disasters, reaching people as rapidly as possible and making the difference between life and death for those in need.
Today, these partnerships have never been more important. More than 135 million people need humanitarian aid, and 30 million affected by war are unable to access aid. Ever more frequent conflicts, extreme weather and natural disasters are creating major health risks, displacing communities, destroying homes and damaging livelihoods. The most vulnerable are the hardest hit, particularly women and children. And with a widening funding gap for aid, the global humanitarian system is being stretched to near breaking point.
At any one time, Oxfam's global humanitarian team is responding to 25 emergencies worldwide. We protect women, men and children from violence and bring life-saving aid in the form of food, safe water, shelter, money and medical supplies, and help to prevent the spread of disease. Oxfam also campaigns for the rights of people caught up in conflict and disaster, and help communities build their resilience to emergencies.
Oxfam works with our corporate emergency partners to scale our work in three ways:
We raise funds from companies and their philanthropic foundations, inviting donations in advance to our disaster relief fund;
We create opportunities to engage employees and consumers in raising funds;
We harness pro bono expertise, working to address critical humanitarian issues by leveraging our partners' skills, knowledge, products and services.
Why partner with Oxfam?
With more than 70 years' experience, Oxfam is of the world's leading providers of humanitarian aid, supporting nearly 1 in 10 of the men, women and children in humanitarian crises. We have globally recognised expertise in fields including safe water, sanitation, public health, food security, and protecting civilians, with a strong reputation for promoting women's rights.
Participating in Oxfam's disaster relief efforts enables companies to support pressing humanitarian crises and promote sustainable development. It also strengthens brand purpose and drives employee loyalty and consumer engagement, with the vast majority (91%) of consumers looking favourably on companies involved in disaster recovery efforts.
Examples of our work
Mum's Magic Hands: Working with Unilever to promote hand-washing through storytelling
Diarrhoea accounts for nearly 30% of deaths in children displaced by emergencies. Raising awareness of the importance of hand-washing with soap is vital to preventing disease and saving children's lives, reducing the risk of diarrhoea by up to 48%.
To help reach mothers with this life-saving message, Oxfam and Unilever developed Mum's Magic Hands (MMH), an interactive storytelling approach promoting effective hand-washing in communities affected by emergencies.
Together, we created a range of materials and resources to help humanitarian organisations worldwide adopt this technique. The programme has been deployed in eight emergencies to date. For example, following the 2015 Nepal earthquake, Oxfam and Unilever brought MMH to five of the country's most vulnerable regions, achieving an 18% increase in hand-washing with soap before eating,17% before cooking and 45% after using the toilet. The partnership has also enabled Unilever to expand Lifebuoy soaps' social impact commitment, building on the brand's donations of soaps in humanitarian disasters.
With Oxfam's vast humanitarian and public health response experience along with Lifebuoy's marketing and behaviour change expertise, our programme draws on emotional motivators, nudges and triggers to drive sustained behaviour change. Our partnership demonstrates the added value of combining forces to achieve a greater goal. The results have had a positive effect on mothers' handwashing practice, increasing both awareness and practice of handwashing with soap"

Aarti Daryanani, Lifebuoy Global Social mission, Unilever
Partnering with the IKEA Foundation to help vulnerable countries respond more effectively to crises
In 2016, Oxfam partnered with the IKEA Foundation to launch a £5.6m programme to help local humanitarian actors in Bangladesh and Uganda respond more effectively to crises. Both countries suffer from crises such as floods, droughts and mass displacements of people triggered by conflict in neighbouring countries or urban migration yet receive comparatively little support.
The programme will reach 76,000 people over three years, building local partners' capabilities to bring vital aid to vulnerable communities and help them recover more quickly in the event of an emergency. Oxfam is sharing its deep expertise in providing humanitarian aid through training, tools and resources on vital topics such as bringing safe water to conflict zones, managing finances and monitoring progress. We are also promoting collaboration and connecting local partners with our established networks, seconding Oxfam staff to help, and providing funding for local partners' efforts. Demonstrating the effectiveness of empowering local groups could help transform the way in which humanitarian aid is delivered.
Collaborating with Arup to deliver improved water and sanitation solutions
Global design and engineering consultancy Arup partnered with Oxfam in 2018 to help strengthen and improve the quality of our technical, on-the-ground humanitarian solutions. Arup employees are volunteering their hydro engineering expertise to help address complex water and sanitation challenges in urban humanitarian crises. Together, we aim to maximise our positive impact on the ground. For example, we use high tech mapping technologies to understand diverse water needs in emergency settings. In 2018, we explored best practice sewage treatment solutions for a Rohingya refugee settlement at Cox's Bazar in Bangladesh, identifying the most effective solution for the 600,000 people living there. In the future, we plan to launch joint learning opportunities for Oxfam and Arup engineers to expand the scope of our partnership.
Supporting Syrian refugees with Waterstones
Learn how we worked with Waterstones to raise £1 million for Syrian refugees, providing food and shelter, and delivering safe water to more than 150,000 people.