Misozi Tembo/ Oxfam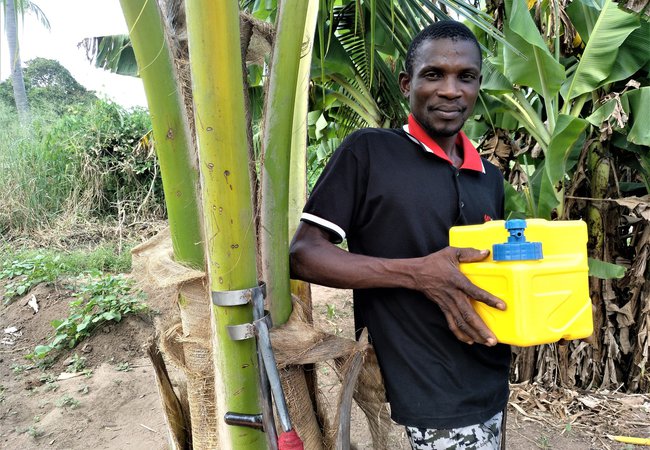 The Lifesaver Cube means I can give my children clean water to drink."
People's Postcode Lottery
Sign up today and join in the fun!
The People's Postcode Lottery is a subscription lottery. It raises funds for a number of charities including Oxfam. Rather than picking a lottery number, it picks a postcode. If you're in the postcode that gets picked, you win.
If you would like to play People's Postcode Lottery, have the chance of winning big and help support Oxfam GB, visit postcodelottery.co.uk or call 0808 109 8765.
Postcodes against poverty
Saving lives in an emergency
Thanks to the support of players of People's Postcode Lottery, we were able to support more than 440,000 people like Carlitos (pictured) in the aftermath of Cyclone Idai in 2019. This included setting up water treatment facilities, providing Oxfam's innovative lifesaver cubes and hygiene kits to help contain the cholera outbreak. Watch Oxfam's Fashion Mawere talk about the challenges of delivering lifesaver cubes – vital water purification devices – to remote villages in Mozambique.
Going second hand helps fights poverty
We were proud to be supported by People's Postcode Lottery in our #SecondHandSeptember campaign. By pledging not to buy any new clothes for 30 days in September, we can all help to reduce the harmful effects fast fashion has on people and planet. Oxfam research shows that buying one new white cotton shirt produces the same amount emissions as driving a car for 35 miles.
The impact of our work
Important information
People's Postcode Lottery manages lotteries on behalf of 20 Postcode Trusts. People play with their chosen postcodes for a chance to win cash prizes. A minimum of 33% from each subscription goes directly to charities and good causes in Britain and internationally. Players have raised more than £750 million so far. For details of the charities and good causes which are promoting and benefitting from the lottery draws, please visit www.postcodelottery.co.uk/good-causes/draw-calendar.
It costs £10 a month to play and winning postcodes are announced every day. The maximum amount a single ticket can win is 10% of the draw proceeds. For details, please visit www.postcodelottery.co.uk/prizes.
New players can sign up to pay using direct debit by calling 0808 10 9 8 7 6 5. New players who sign up online at www.postcodelottery.co.uk can pay using direct debit, debit card or PayPal.
Postcode Lottery Limited is regulated by the Gambling Commission under licence numbers: 000-000829-N-102511 and 000-000829-R-102513. Registered office: 2nd Floor, 31 Chertsey Street, Guildford, Surrey, England, GU1 4HD.