Eleanor Farmer/Oxfam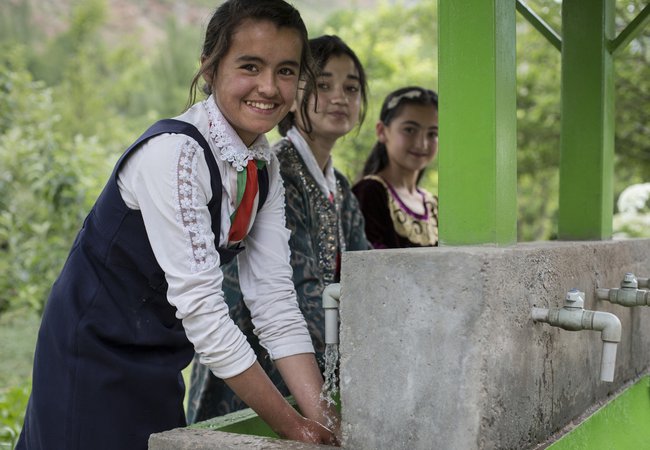 Keeping clean and staying healthy
Activity ideas for ages 9-14
Here are some activities to help you learn and think about how we can keep clean and stay healthy.
Regular handwashing is one of the most important things we can all do to prevent the spread of diseases - including COVID-19.
But, how do you wash your hands if you don't have any clean water or soap?
1. Think about what it means to be healthy
Think about what it means to be healthy. Talk to someone about your ideas.
Draw an outline of a person and fill it with words and pictures to show different ways in which we can keep healthy.
Possible ideas could be washing your hands properly, eating a balanced diet, exercising regularly, getting enough sleep, brushing our teeth and talking about our feelings.
Perhaps you could make a leaflet, presentation or quiz to share your ideas.
Islam Mardini/ Oxfam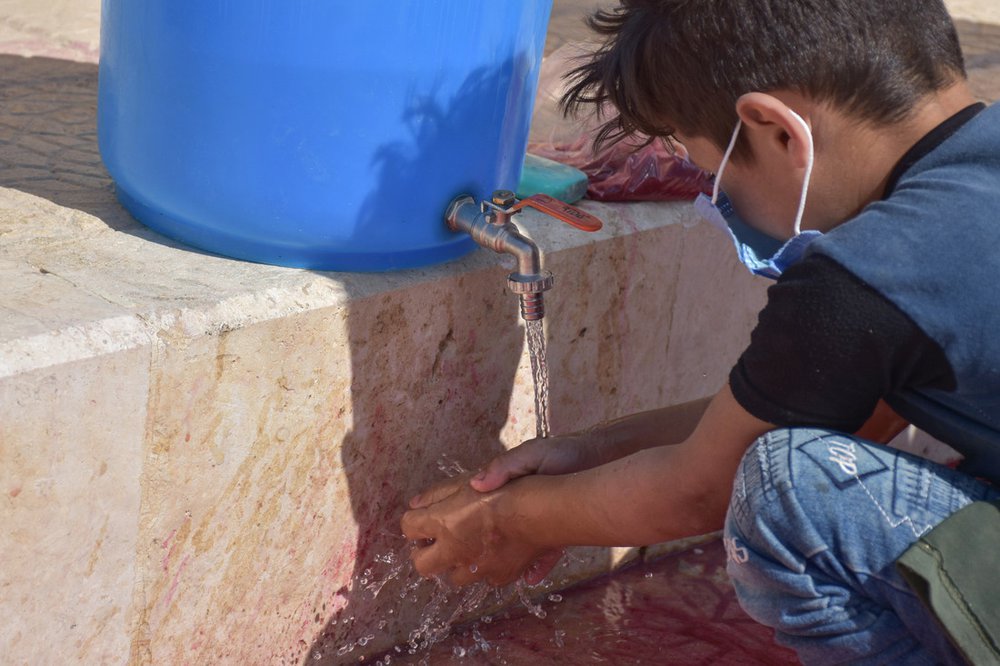 2. Make a hygiene kit
People can sometimes face challenges in keeping clean and staying healthy.
Families living in poverty may not have a clean water source close to home. Disasters such as earthquakes and cyclones may damage homes, hospitals and water pipes. People forced to flee home because of conflict (fighting) or extreme weather may have to live in crowded camps. They might have to share one tap between up to 250 people. Living close together with others can make it easier for diseases to spread.
One way in which Oxfam works with communities is by giving out hygiene kits to help people keep clean and stay healthy.
What would you put in a hygiene kit?
Write or draw the five things that you think would be most important.
Talk to someone about your ideas and the reasons for your choices.
What's in an Oxfam hygiene kit?
These kits will vary from place to place but all contain simple, life-saving items to help people keep clean and stay healthy.
3. Delve into data
Many people around the world don't have access to the things we need to keep clean and stay healthy such as clean water close to home, soap and a toilet.
Go online to try and find some data about this.
The World Health Organisation have some helpful water and sanitation fact sheets.
World Bank Open Data and UN data provide free and open access to data from countries around the world. Gapminder and Our World in Data are other useful information sources.
Maybe you could design some infographics to share the facts and figures that you find.
If the world were a village of 100 people…
10 people wouldn't have clean water close to home
27 people wouldn't have adequate sanitation such as toilets and latrines
40 people would lack access to basic handwashing facilities
4. See, think, wonder
Using pictures is a great way to learn and think about the world around us. This activity will help you consider some of the challenges that people can face in keeping clean and staying healthy as well as possible solutions.
See
What can you see in the picture? What do you know for definite?
Think
What do you think about it? What do you think is happening?
Wonder
What do you wonder? What questions would you like to ask about the picture? What do you think people in the picture might be thinking or saying?
Abbie Trayler-Smith/Oxfam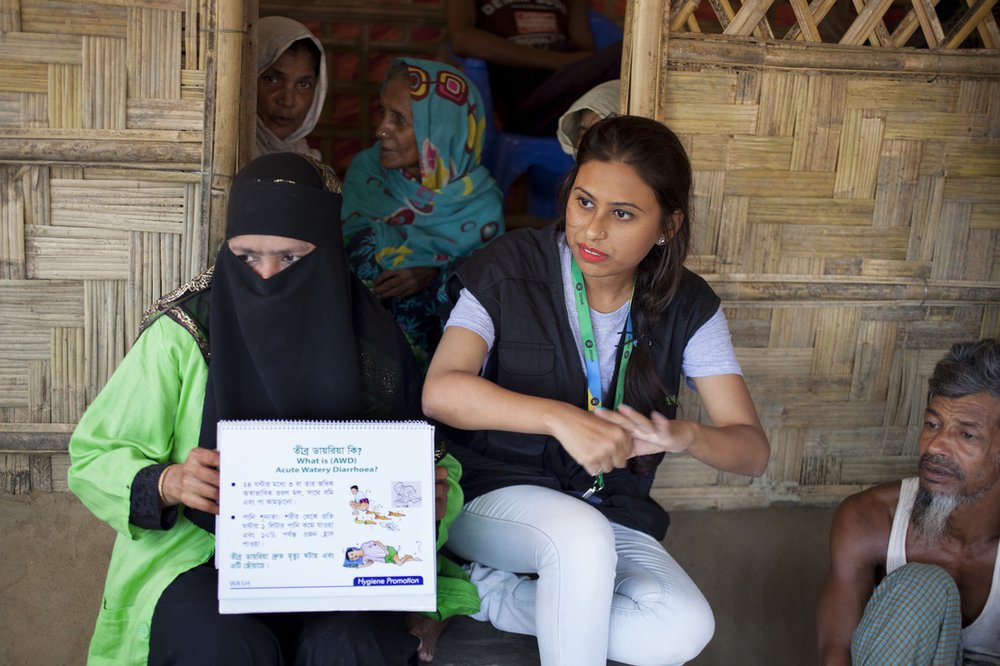 5. Sorting solutions
Oxfam is a global movement of millions of people working together to end poverty and create a kinder, fairer and sustainable future for all. We work in three main ways.
­Responding to emergencies
This is about providing short-term, life-saving support to help people in emergency situations. For example, when there is an earthquake, flooding or drought.
Development
We work with communities and organisations around the world to build long term solutions. This means helping people to get the resources they need.
­Campaigning for change
Campaigning means taking action to bring about change in the world. For Oxfam, it's about standing together with others to speak out against the things that cause people to become poor in the first place.
Here is a list of some of the ways in which Oxfam is working with others to help people to keep clean and stay healthy.
Which category do you think each of these solutions would fit into?
Some of these responses might fit into more than one category. The aim of this activity is just to get you thinking about possible solutions!
Giving out hygiene kits.
Putting pressure on those in power to invest more in essential health services.
Constructing a new toilet block at a school.
Delivering emergency water supplies.
Training volunteers to raise awareness of good hygiene in their communities.
Distributing water filter kits so that people have safe, clean water to drink.
Building solar-powered water systems so that people have access to clean water close to home.
Installing hand washing stations in a refugee camp.
Joining with others to call for a people's vaccine for COVID-19 that is freely available and fairly distributed to everyone.
Elena Heatherwick / Oxfam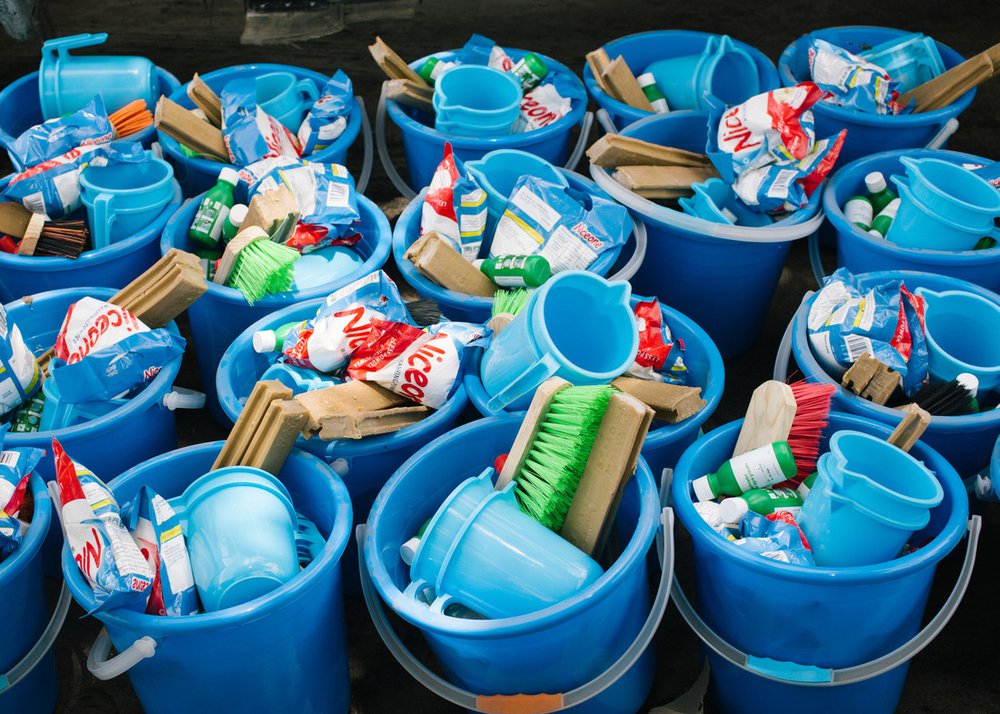 Further learning
Find out more about Oxfam's work
Find out more about Oxfam's work with communities around the world to provide clean water and sanitation, and help stop the spread of coronavirus.
Have fun with handwashing
These fun and educational home learning activities help younger children (ages 5-9) learn about the importance of good handwashing.
Dollar Street
Developed by Gapminder, Dollar Street is an interactive online platform which uses photographs and statistics to provide a fascinating insight into the lives and homes of people all over the world. Children can select different topics to explore such as handwashing, toilets and drinking water.
World Toilet Day
World Toilet Day takes place on 19 November each year and aims to raise awareness about the 2 billion people who still don't have basic sanitation facilities such as toilets or latrines. See the UN World Toilet Day web pages for some useful facts and figures. A free World Toilet Day resource was produced by the Global Learning Programme in 2017 to support learning and thinking about sanitation. This resource consists of a quiz and 12 activity ideas (most of which could easily be adapted for home learning).
Visit the UN World Toilet Day web pages
Connecting Classrooms through Global Learning – Learning from a pandemic
This excellent resource helps learners make sense of COVID-19. Find out about some major global infectious diseases, learn about how infections spread and investigate what we can do to stop the spread of COVID-19 and stay safe.