Timor-Leste: Adilson da Costa Junior, Oxfam in Timor-Leste's Strategy and Engagement Lead and Zaquiel Martins de Carmo, the founder of Timor-Leste Organic Fertiliser Enterprise who produce commercial organic fertiliser. Photo: Keith Parsons/Oxfam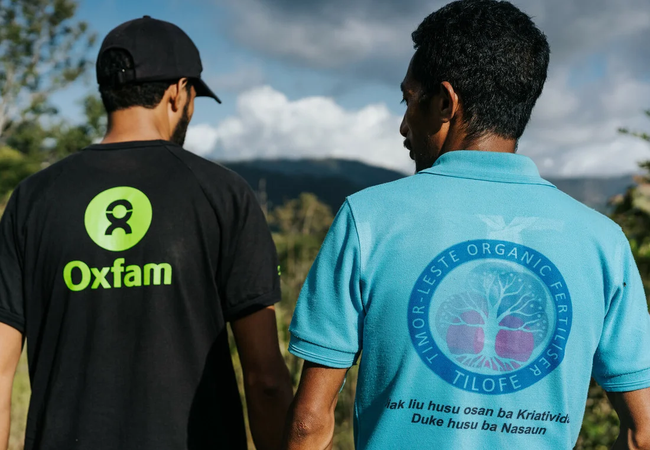 Our approach
With Oxfam, companies can work alongside communities to bring sustainability ambitions closer to reality.
Business as unusual
Oxfam challenges 'business as usual' together with companies, working in supply chains, in places of power and with employees.
Together, we can help set the agenda for global change. We can demonstrate what's possible in the most fragile country contexts, as well as in the most powerful global forums. We can overcome the injustices of poverty which are fueled by inequality.
With our corporate partners, we pursue many of the UN's Sustainable Development Goals (SDGs). We place workers at the centre of our work to instill business practices that respect human rights, and respect businesses' obligations set out in the UN Guiding Principles on Business and Human Rights.
Our team can work with you to develop a partnership for your business.
Build your relationship with Oxfam
Our partnerships are grounded in due diligence and aligned values that set the ethical foundations for purposeful collaboration. In a partnership, you can rely on Oxfam to be your 'critical friend', ready to tackle tough questions that get to the heart of complex challenges.
Oxfam will provide a named account manager to work with your business through the development and lifetime of our partnership. They can introduce you to our experts, our teams, and partners around the world who are best placed to understand the challenges we tackle together.
Your account manager will prepare reporting and communications, covering impacts and authentic testimonies that can bring your employees, leadership and audiences close to the work you support through Oxfam.
Oxfam and Unilever: A partnership rooted in labour rights
Oxfam and Unilever have been partnering for more than 20 years to contribute to a fairer and more socially inclusive world.
Do business better with Oxfam Business Advisory Service
Our extensive experience in researching and addressing the root causes of poverty with communities and partner organisations around the world enables us to advise and support businesses to build more just and sustainable supply chains. Oxfam policy and technical advisors can help your company with practical advice and support to strengthen your sustainability and human rights policies, strategies and impact.