Oxfam delivering water to shelters in Aleppo city after the earthquake in Turkey and Syria. Photo: Islam Mardini / Oxfam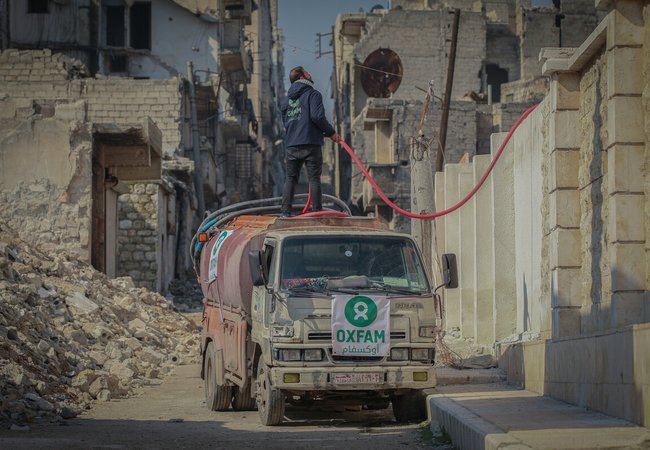 Become an emergency partner
Oxfam supports people caught up in disasters and conflicts across the world, giving life-saving support to those most in need and helping people rebuild their communities.
Help us respond quickly to emergencies
One in 23 people will be supported with humanitarian assistance in 2023. More disasters, displacement, disease, and skyrocketing prices are driving the worst humanitarian crises in decades. Extreme weather has increased the demand for humanitarian support by 800% since 2020. Humanitarian groups are stretched to breaking point.
Corporate support enables Oxfam to respond quickly when disaster strikes, ensuring communities impacted by conflict and natural disaster have clean water, safe sanitation, food, shelter and essential cash support for people to rebuild their livelihoods.
Oxfam also campaigns for the rights of people caught up in conflict and disaster, and support communities' work to build their resilience to future emergencies.
If your business can help make this possible, we want to speak to you.
How your company can help
These are just a few of the ways you can channel vital resources to people experiencing life-changing emergencies around the world:
Engage your customers and employees with fundraising and cause-related marketing
Fund a programme in a country that has faced disaster
Apply relevant business skills and expertise on a pro bono basis
Lend your influence to advocate with Oxfam for policy and aid reforms that will fast-track peace-building and disaster recovery.