Augustin washes his hands at one of new hand washing kits installed by Oxfam in Kisalaba site. Photo: Arlette Bashizi/Oxfam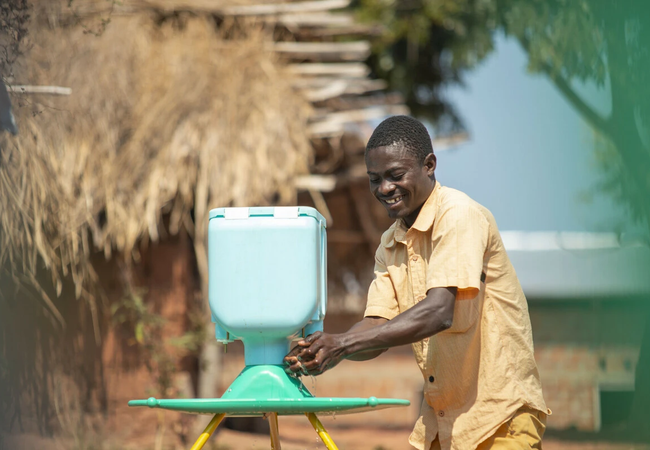 Trusts and foundations
Our partnerships with Trusts and Foundations are rooted in a long-term vision to make a kinder, fairer world. By partnering with Oxfam, you will also be connecting with a network of partner organisations around the world, bringing together the best of global vision, local knowledge and action.
Sustainable programmes to tackle poverty
Your support enables us to deliver multi-year sustainable
programmes that tackle the structural causes of poverty across the globe.
A relationship manager will work with you to ensure your support will have the most impact. You'll be kept informed with regular updates and will have opportunities to engage with our teams in person or through a range of virtual learning events.
Working together to achieve sustainable water access
Easy access to water is directly linked with a better quality of life for women. Oxfam, with the support of Grundfos Foundation, focus on ensuring the sustainability of water supply in rural areas.
The lack of sustainable water infrastructure has long been a key barrier for rural communities to access a long-term, reliable supply of safe water.
In Nepal, where Oxfam conducted its research, 75% of government water supply schemes were failing within less than two years of implementation.
The multi-year project is currently working on the repair and maintenance of dysfunctional water points, bringing together a Water Supply Management Board and local government to improve service delivery. We have found that a system will be functional for a much longer period if it has water pipes that are professionally installed and a significant number of households paying a reasonable, regular tariff.
Women share their experiences on how a household tap has affected their relationship with water.
Footage from "Sustainable Rural Water Supply in Nepal: Delivering the Alternative Management Model" known as the AMM project, funded by Grundfos Foundation.
Adapting to changing needs in emergencies
Oxfam and the Grundfos Foundation were already working closely in Nepal when COVID-19 struck. It was immediately clear that much of our essential work – providing clean water supplies, promoting safe hygiene practices and addressing losses of income – had never been more needed.
The Foundation was able to offer exactly the kind of flexibility that was needed, repurposing existing project funds to meet the new reality.
Contactless handwashing station. Photo: Oxfam Nepal
Oxfam and the Grundfos Foundation
Accountability
"Since 2016, players of People's Postcode Lottery have supported Oxfam GB with over £16m in unrestricted funding, and we're proud of what we've achieved together in that time.
Oxfam's Effectiveness Reviews and Impact Evaluations clearly show a commitment to accountability, measuring impact and learning. Their ability to amplify the voices of people they work with really helps to highlight the difference they make in communities around the world.
As a sector leader, Oxfam's commitment to tackling structural power imbalances in International Development in their new strategy is both exciting and challenging. It encourages us, and the sector as a whole, to reflect on what needs to change in order to shift power and make the world fair and safe for everyone."

Laura Chow – Head of Charities, People's Postcode Lottery
Innovation
The new Oxfam Handwashing Stand is the product of over six years of consultation, design, field testing and adaptation. Designed and developed by Beech Grove Academy students in partnership with Oxfam, the first prototype of the Oxfam Handwashing Stand had an A-frame superstructure capable of holding different locally-available water containers combined with soap, handwashing reminders, and the HandyWash water dispenser.
The design was height-adjustable for children and wheelchair users and easy to use and maintain, providing dignified handwashing facilities for people in crisis. Now adapted for use across the world in humanitarian settings, we are grateful for the support of Elrha to help us reach our goals.
Augustin washes his hands at one of new hand washing kits installed by Oxfam in Kisalaba site. Photo: Arlette Bashizi/Oxfam
"I came here when I fled the war that was going on in my village. I was born without a disability, but when I was younger I was affected by polio and I received some injections that paralysed my leg.
"Several taps and water tanks were installed here at the site, there were also new hand washing points. Coming from Oxfam it helps us a lot as people living with disabilities, we don't have to go miles to get water anymore."

Kibawa Muzinga Augustin, DRC
Humanitarian response to the Ukraine crisis
We are listening to and being guided by local organisations across Poland, Romania and Moldova – neighbouring countries taking in millions of refugees from war in Ukraine.
Oxfam is enabling life-saving support for the most vulnerable people by installing hygiene facilities, to prevent avoidable illnesses from spreading. This includes toilets and showers that are accessible for people with disabilities, as well as hand-washing stations in reception centres across Poland. In Moldova, we have also provided emergency food parcels.
Partners in Romania are focusing particularly on vulnerable groups and minorities, including Roma communities, LGBTQI+ people and women travelling with young children.