Want to redesign the way you live to put sustainability at the heart?
Here are some tips to help you out...
What is sustainable living?
Sustainable living means making choices today that will positively impact the planet tomorrow.
It means aiming to minimise any damage we might do to the environment by being responsible with what we use throughout our lifetimes. This includes making choices that keep waste and pollution low and preserve biodiversity.
The goal is to make sure the Earth's resources are used only as needed today, without compromising the ability of future generations to meet their own needs. By doing things like calling for those who control access to energy, water, and other resources do so efficiently and responsibly, as well as preserving natural habitats and ecosystems. And being conscious of how we shop, use our home appliances, travel and more.
Learning how to live more sustainably is a positive step towards a better future for us all. By living sustainably, people can contribute to the overall health and well-being of the planet and those that live on it.
In this guide, Oxfam shares tips and tricks for sustainable living. Including ways to hold governments to account on climate action, taking collective climate action in your community and thinking about what you can do at home.
Ed Nix/Oxfam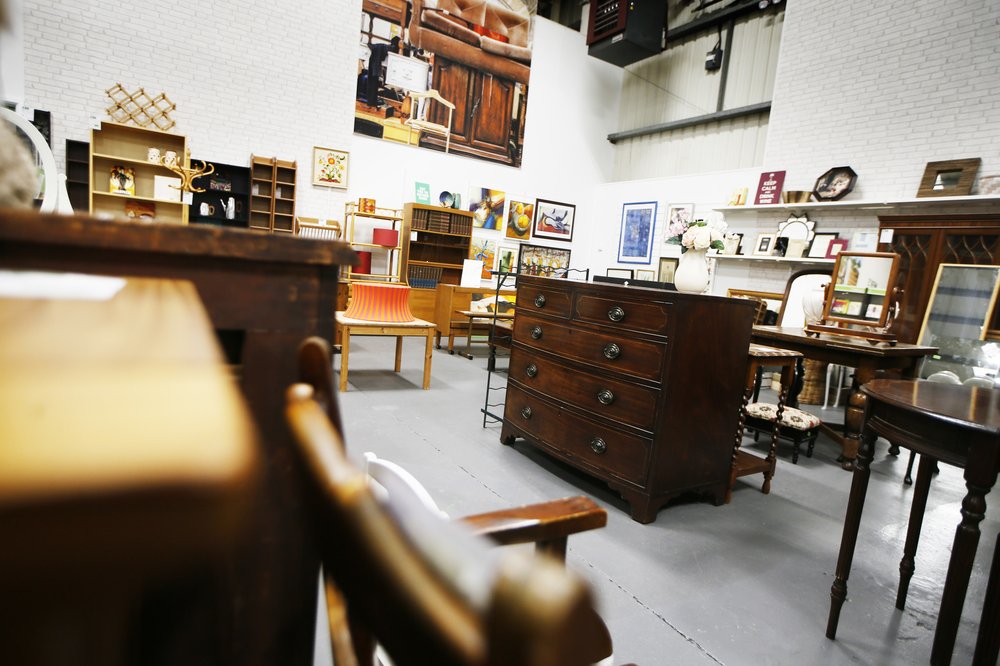 How to live more sustainably
To live more sustainably you can do things like changing your lifestyle choices. Say, switching to a more plant-based diet for example. But you can also do bigger picture things, like getting involved in community climate action. And helping hold our governments to account.
Sustainable living is important because it can help to ensure the long-term viability of our planet and its resources.
It can help to reduce pollution and waste, which can have a positive impact on the environment and on all of us. For example, by reducing the amount of waste we produce, we can help to reduce the burden on landfills and reduce the emissions that contribute to climate change.
This is important because climate change is a major global threat that is already having significant impacts on the planet, including rising sea levels, changes to weather patterns and more frequent and severe disasters.
You may have heard the phrase, we don't need a handful of people doing it perfectly, we need millions of people doing it imperfectly.
We can all play our part in calling on governments to take climate action. And in reducing our own carbon emissions as communities and members of communities. Here are some things you can do to start...
Change your lifestyle choices
Think before you buy stuff, buy second-hand, reuse and recycle
Use the bus, train, walk or cycle, rather than fly or drive, whenever possible
Reduce meat and dairy and shift to a more seasonal plant-based diet
Switch any savings/investments/pensions you have to ethical and sustainable funds
Make your home more energy efficient and reduce your fuel bills. This can be done with things like loft insulation, double or secondary glazing, energy-efficient lightbulbs, boilers and more
Switch to a renewable energy tariff
For more advice check out We Are Possible and WWF's footprint page.
Get involved in community climate action
Be part of The Great Big Green Week in September
Take action with others in the neighbourhood, workplace or other communities to reduce emissions
Press local councils and businesses to reduce their carbon emissions, including disinvesting from fossil fuels.
Join other people in our community to do things like raise awareness of the climate emergency and what people can do about it.
Plant trees, run swap shops to reduce waste, set up community-owned renewable energy projects, help combat fuel poverty
Hold our governments to account
A new survey by Ipsos MORI shows that Britons want UK to be a global leader in climate change. The majority want to see UK government reduce emissions at faster pace to set an example to other countries (56%) and 58% want UK to use diplomatic influence to persuade other countries to reduce emissions.
Participate in campaigns to get governments and companies to take urgent action to combat climate change
Act in solidarity with people worldwide. And push for bold systemic action on climate change.
We're demanding urgent and decisive action from world leaders - action that limits global temperature rise to 1.5C and is fair for all people, not just those with power and money. That means getting those producing the most carbon emissions to reduce more quickly, and sharing the benefits (like green jobs, better health and reduced energy poverty). And it means supporting communities on the frontlines of the crisis, who don't have the resources to cope with the impacts of the climate crisis and need funding for the losses and damage they face.
You can write to your MP on climate with Oxfam, and help make sure the UK government lives up to its commitments on climate change.
The UK government must continue efforts to bring countries back to the table and ensure the commitment of limiting global temperatures to 1.5°C is upheld. Any further delay risks missing the rapidly closing window to secure a liveable future."

Oxfam's Head of Government Relations, Sam Nadel, UK
Oxfam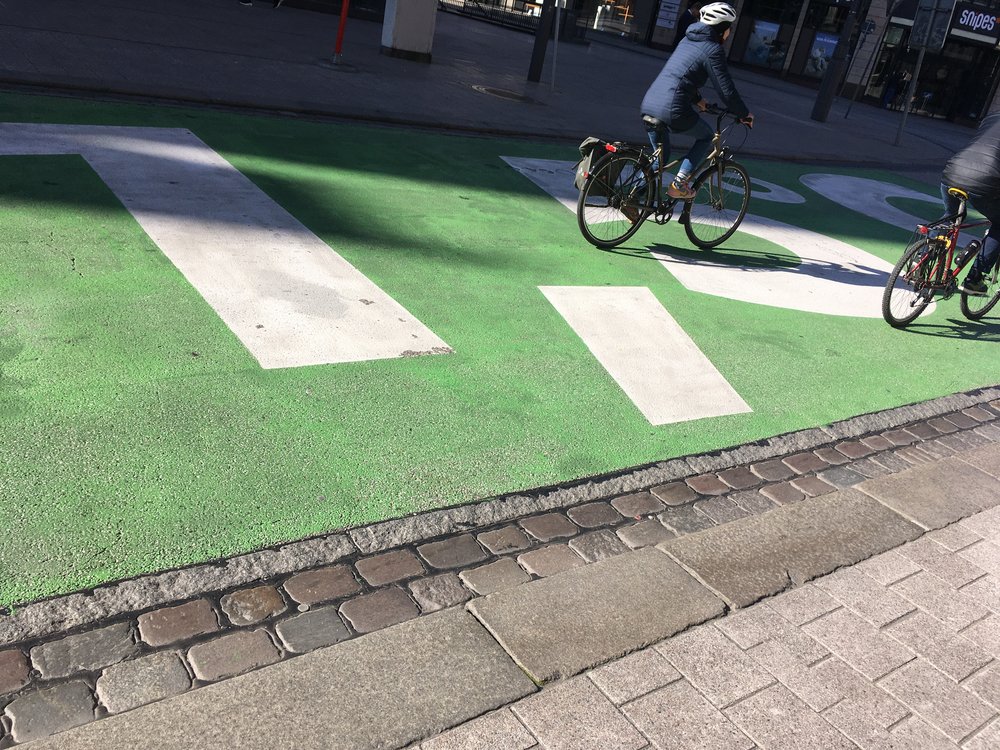 Tips for sustainable shopping
Go without fast fashion
In 2019, Oxfam found that new clothes bought in the UK produce more carbon emissions than driving a car around the world six times.
And that...
More than two tonnes of clothes are purchased every minute in the UK
Buying one new white cotton shirt creates the same emissions as driving a car for 35 miles
The emissions from all the new clothes bought in the UK every month are greater than those from flying a plane around the world 900 times
The average adult spends £27 a month in fast fashion outlets and currently owns two items which remain unworn
An Oxfam staff member decided to ditch fast fashion not just for Second Hand September but for a whole year. To date she hasn't gone back to buying fast fashion.
Shop second hand
Shopping second hand is a great way to make items last longer and keep products in circulation. There's also the bonus of finding something unique and interesting to give your home a more individual look. The fastest way to add some personality to your home while also shopping consciously is to source pre-loved homewares. On the Oxfam online shop, you can find everything from retro glassware to antique candelabras, vintage trinket boxes and contemporary coffee table books. Alternatively, search Shop Finder to find your nearest Oxfam store.
Second Hand September aims to ask people to change their shopping habits for 30 days - by only shopping second-hand. I knew I wanted to make a change! So I did."
9 ways to make your home more sustainable
1. Get second hand furniture
Want to fill your home with fancy antique furnishings on a budget? Buy second hand furniture! Not only can you find unique tables, chairs, art and more for a fraction of the price they'd cost new, but you're also giving existing furniture a longer life. This is more sustainable than buying fast furniture. Fast furniture, like fast fashion, is furniture that is produced quickly and at scale and that often uses materials that are not sustainable.
2. Donate your pre-loved goods
Sometimes holding on to items you no longer need or have space for can be inevitable. There comes a time when a clear-out can do a world of good, for you and others, when you donate your items to charity. There of lots of items that can be donated directly to your local Oxfam shop or through Oxfam's postal donation service because what might be of no use to you now could be just what someone else is looking for. Plus, the more items that are given a second lease of life means less items ending up in landfill.
3. Add insulation
Increasing loft insulation and cavity wall insulation can keep cool air in during the summer and warm air from heating in during the winter. This also helps to reduce heating bills. And knowing that it can improve the energy rating on an Energy Performance Certificate (EPC) could help persuade homeowners to increase insulation.
4. Install a heat pump
Heat pumps absorb heat from one place – the outside air or underground – and move it to another. They use an electric compressor to make higher-temperature energy from energy pumped at a lower temperature. They can be used to heat or cool a home. The electricity the compressor uses can be provided sustainably. Heat pumps will be one of the most sustainable options for heating our homes in the future.
5. Get solar panels
Solar panels are a great way to generate electricity using the power of the sun. They can be used to help power your home and bring costs down or to sell the energy to make your energy bills more affordable or both!
6. Install solar water heating
Solar water heating uses sunlight to heat your water. So you could power your shower and kitchen tap with the sun.
7. Use sustainable washing products
Sustainable washing products are cruelty-free and use ingredients from sustainable sources. They don't use harsh chemicals that contribute to polluting our rivers and seas and are often free from plastic packaging. When it comes to washing your clothes, you can reduce the number of plastic fibres shed from your clothes by using a guppy friend bag as well as using eco-friendly laundry products.
8. Plastic-free food shopping
In countries like New Zealand, it's common for people to take old cardboard boxes and shopping bags to the supermarket to transport their shopping home in. This practice has grown in popularity in the UK and is a great way to reduce the use of single-use plastic. Outside of supermarket shopping, ordering vegetable boxes and food from Fairtrade, ethical brands reduces waste and supports local businesses. You're also likely to find a selection of glass Tupperware containers in your local Oxfam shop for an attractive way to display herbs and spices in your kitchen. Browse more of Oxfam's fair trade products, including chocolate and other Fairtrade food.
9. Make your bathroom more eco friendly
You don't have to use bleach and other detergents that can be dangerous for the ecosystem to clean effectively. Companies like Bio D make sustainable bathroom cleaning products that come in recycled packaging and can be refilled. As well as being made from natural derived alternatives which are kinder to the planet, they're also cruelty-free, vegan and Allergy UK-approved for greater peace of mind.
Bio-D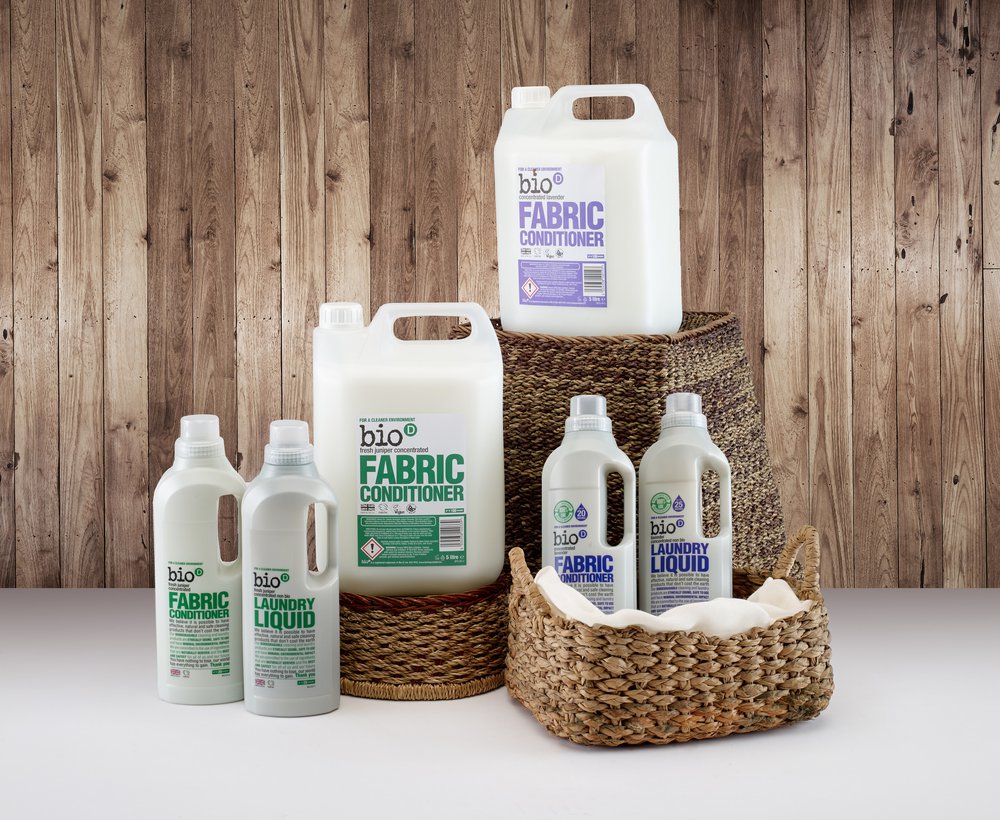 How to make your homeware and decor more sustainable
Use responsibly sourced decor
Nothing beats a sustainable home with a one-of-a-kind look. Using off-cuts and end of line items is one way to shop responsibly while creating unique textiles and furniture for your living space. Upcycling second hand items yourself also reduces costs and can give you a sense of satisfaction that you've made it your own. A quick YouTube tutorial can teach you how to upholster your own chairs or take them to a local business that can do it for you. Why not turn second hand fabrics such as vintage blankets into statement cushion covers?
Decorate with greenery
From planting your own vegetable patch, to scattering bee-friendly seeds in your garden, there's a host of ways to decorate with greenery and it's not just your outdoor area that can benefit from sustainable living. Nothing quite transforms a tired, forgotten corner of your home than when you add botanicals into the mix. Not only do plants boost your mood and improve air quality in your living space, they're often a cheaper, planet friendly alternative to buying accessories brand new.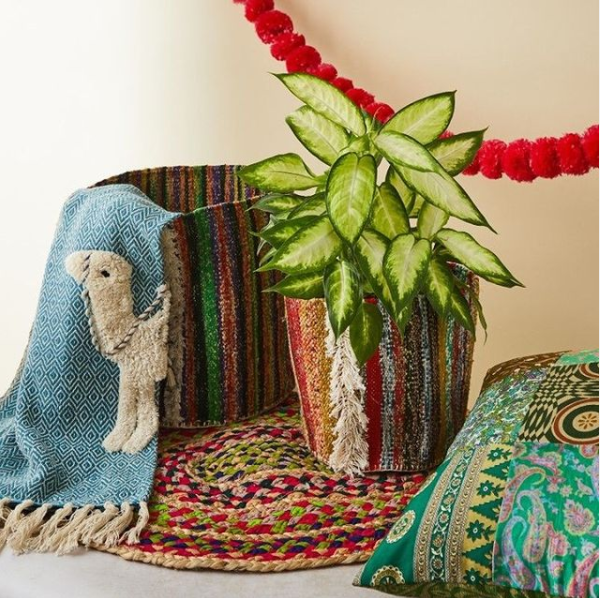 How does sustainable living help with the bigger picture?
Living a sustainable life can help us think more about what we give back. To want to push for bigger changes for all of us. So that governments, corporations and individuals commit to using resources fairly.
A key part of systemic change for Oxfam is to see women, men, boys and girls who do not currently have the power to make decisions that affect their lives, access it.
Currently, the people who have done the least to cause climate change are being affected by it first and worst.
We are campaigning for climate justice, to change the systems that are allowing this to happen. And to help communities with the costs of loss and damage.
What is climate justice?
Climate justice means tackling the climate crisis in ways that both prevent dangerous climate impacts and help make things more equal. For a fairer, greener and safer world.
This means those with the greatest responsibility for the crisis – big wealthy economies, fossil fuel and carbon-intensive companies and wealthy individuals:
Make the biggest and fastest cuts in emissions.
Provide financial assistance and reparation (amends) to those who have contributed to the crisis the least.
Shoulder the greatest costs of climate action.
And it means...
The co-benefits of climate action are fairly shared.
Affected communities have a say in decisions that affect them
The rights of affected people are respected and protected