Aurelie Marrier d'Unienville/Oxfam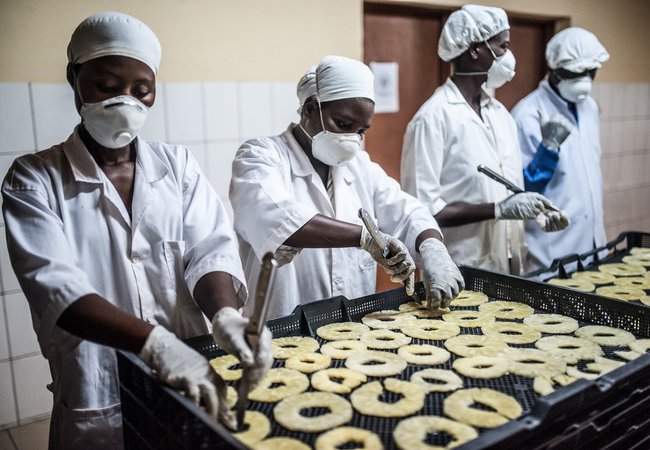 Promoting human rights in global supply chains
The private sector is the largest provider of employment globally, with people worldwide depending on companies for jobs and incomes. Yet the hundreds of millions of people working in international supply chains are often living in poverty, facing insecurity, insufficient pay, low prices and poor working conditions.
Our aim
We strive to support vulnerable people in global supply chains, so they have decent, dignified work and earn a living wage.
Business can play a critical role in driving the systemic changes needed to transform farmers' and workers' lives for the better. In particular, companies can take steps to be better employers, buyers, and partners with their suppliers to raise the bar on ethical performance as well as encouraging governments to develop effective human rights legislation, helping to create a rising tide of responsible business practice.
Our challenge to companies
We challenge companies to move beyond compliance towards making positive impacts on workers in their supply chain through continuous improvement, engaging with suppliers, civil society and governments to transform systems and advance sustainable development.
With a deep understanding of labour rights issues and their root causes, Oxfam encourages companies to focus on improving working conditions, tackling gender inequalities and promoting living wages, adopting proven, best practice approaches.
Our work on human and labour rights
Our work is guided by the conventions of the International Labour Organization, the Ethical Trading Initiative's Base Code and the UN Guiding Principles on Business and Human Rights(UNGPs), which provide a global, framework for action by companies on human rights. Whether challenging or working with major companies on solutions, we highlight the impacts of purchasing practices that prioritise cost-cutting and quality standards over respecting the rights of workers, with consequences for working conditions, job security and incomes. We advocate for and advise on strategies to enhance peoples' wellbeing and share more value with the most vulnerable, enabling them to benefit more from their participation in global supply chains. While there is still much to do, progress is underway, with leading companies committing to follow the UNGPs. We are turning attention to how human rights and decent work can be upheld for the growing workforce in the informal and gig economy.
Putting our vision into practice
Oxfam engages with companies including Unilever, Marks & Spencer, Burberry, Mars and Finnish retailer SOK to help them better understand and address the principle human rights risks in their supply chains. We participate in wide-ranging multi-stakeholder initiatives. and develop collaborative, on-the-ground programmes to promote workers' rights and raise ethical standards.
Behind the Barcodes: Campaigning for decent work
Bekky Lonsdale/Oxfam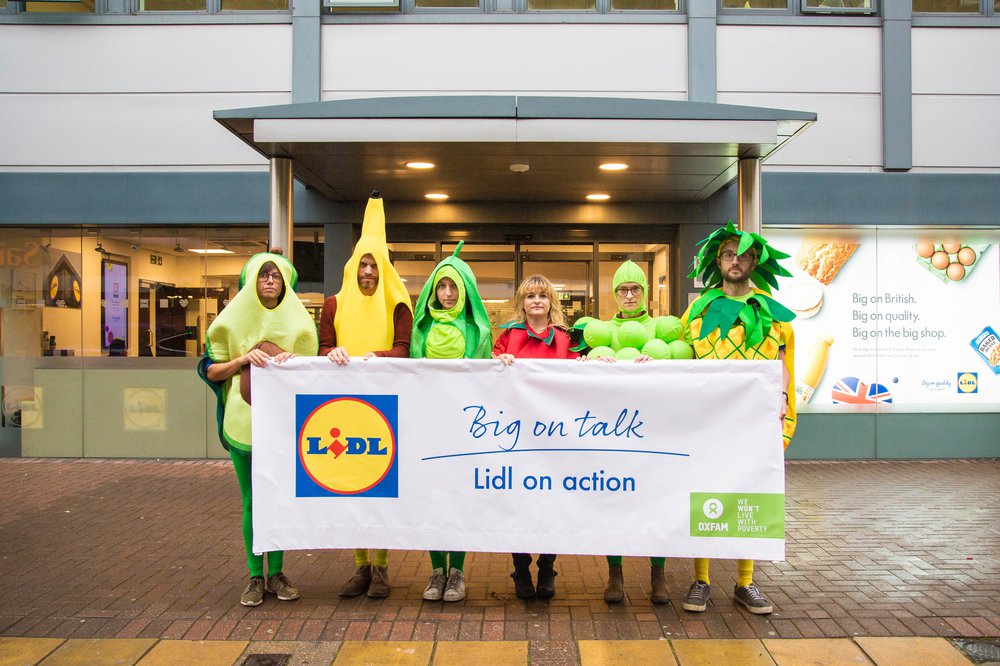 Oxfam's Behind the Barcodes campaign is a call to action to the most powerful supermarkets in 4 countries including Sainsbury's, Tesco, Morrisons, Asda, Lidl and Aldi in the UK to tackle hidden suffering, improve workers' lives and ensure fair and equal treatment for women. Supermarkets compete to provide the best prices, choice and year-round availability, often focusing on profits or shareholder returns. But Oxfam has found that the pressure the supermarkets exert on suppliers to deliver quality at low prices puts those working 'behind the barcodes' at risk. More than 90% of women workers on South African grape farms are going hungry, and 75% of women working on Italy's fruit and vegetable farms are unable to buy sufficient food. But it doesn't have to be this way. Businesses can drive change by transforming their relationships with suppliers and supporting them in addressing labour conditions, quality of work and wages.
We're asking supermarkets to be clear about how they're promoting human rights and engaging their customers to demonstrate that they don't want to buy food produced on the back of human suffering. Oxfam Supermarket Scorecard assesses company measures performance on four themes (transparency & accountability, workers, farmers and women) against internationally recognized indicators of good practice. The 2019 Supermarket Scorecard shows that, while some are doing better than others, all supermarkets lack sufficient policies to properly protect the people who produce our food. Not one supermarket cored higher than 40%. While there is still significant room for improvement, Aldi, the poorest performer in the first year, is already rising up the scorecard after publishing a human rights policy and appointing a labour rights director. Meanwhile, Tesco, the highest performer in year one, further improved by 15% in 2019 by proactively engaging with trade unions to strengthen worker representation (for instance in Peruvian horticulture) and for recognizing that legal wages can fall short of a 'living wage' (for example in Malawi tea and in several banana producing countries).
Promoting living wages
Every worker has the right to a living wage – a wage that meets their basic needs and enables them to save towards their family's future. But all too often, there is a gap between workers' actual income and a living wage.
Our commitment to help workers to access this right drives our work in Malawi, where we are working with companies including Twinings, Unilever, Taylors of Harrogate and Tesco through the Malawi Tea 2020 programme. The programme set out to help tea workers achieve a living wage by 2020, while revitalising the struggling tea sector.
Wages for the 40,000 workers on Malawi's tea plantations have steadily increased since 2015. The gap with a living wage has closed by more than 25% and major tea brands have strengthened their commitment to Malawi as an origin for their tea blends.
Helping companies move beyond audit to source responsibly
We work with companies to help them move beyond audit by developing in-depth understanding of their human rights impacts and co-creating bespoke programmes to drive progress. By conducting Human Rights due diligence, including impact assessments, comprehensive research reports and poverty footprint studies. To further support this work and enable more companies to make progress on responsible sourcing strategies, we have recently launched a Oxfam Business Advisory Service.
Examples of our work
Unilever: Improving pay and labour conditions in Vietnam
Oxfam conducted an unusual study with Unilever, with the company agreeing to open its doors to enable an assessment of the gaps between the company's high-level policies and the reality on the ground for workers. Our assessment led to Unilever improving pay and labour conditions for workers in its Vietnam factory and around the world.
We first reviewed the company's performance in 2011, delivering concrete recommendations for change which led Unilever to make a range of public commitments in 2013 to improve its practices. We went back to assess progress and observed 15 key improvements in a further report in 2016: Labour Rights in Vietnam: Unilever's Progress and Systemic Challenges. Improvements included replacing its Supplier Code with a more robust Responsible Sourcing Policy.
Directly involving its business leaders in promoting responsible sourcing, engaging in constructive dialogue with trade unions, and recognising that minimum wages are not sufficient for a fair living wage.
Unilever's change of management style in its Vietnam factory resulted in improved worker satisfaction, with workers reporting that managers listened more to their concerns and grievances.
Despite an economic downturn affecting the sector, wages in the factory had increased by 48% for semi-skilled workers, and the company had taken 87 manufacturing jobs in house to reduce contract labour, such that its ratio of indirect to direct employees moved from 55:45 to 31:69.
70% of the company's suppliers in Vietnam reported in 2016 that Unilever was serious about responsible sourcing, compared to 17% in 2011.
M&S: supporting M&S to understand and further embed human rights in its supply chain
Oxfam has been working with M&S to help the retailer develop a deeper understanding of the connection between its sourcing practices and human rights impacts, as part of its Plan A commitments on gender including empowering women in its supply chain, improving workers' voice, and delivering a living wage.
With M&S's support, Oxfam undertook research with UK food suppliers and leather footwear suppliers in India. Our long-standing relationship with M&S has helped pave the way for this 'beyond audit' approach helping a company understand and make progress on challenging issues. One of our shared goals is to demonstrate impact and increase awareness within the company that many human rights issues are inter-related and need to be addressed systemically.
SOK: Identifying opportunities to raise human rights performance
In 2018, Oxfam conducted a Human Rights Impact Assessment (HRIA) of SOK Corporation's Italian processed tomato supply chains to help the company move beyond audits. We assessed the company's practices over six months, identifying current human rights impacts and opportunities for positive change within its tomato production in Italy, in line with the UNGPs, and advising on best practice approaches to raising standards.