Oxfam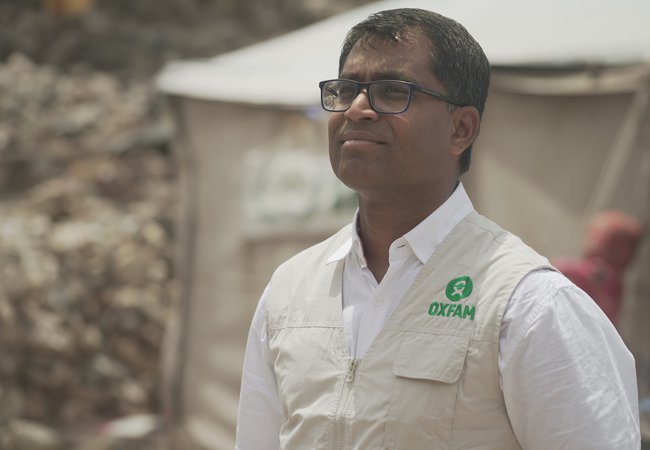 Our vision is of a kinder, fairer world. A world less divided by borders, money, race or gender."
Danny Sriskandarajah, CEO of Oxfam
Oxfam's CEO, Leadership and Trustees
The Chief Executive Officer is responsible to Trustees for the management of Oxfam, and is supported by a Strategic Leadership Team and other key roles.
Oxfam's Leadership Team
Other key roles
Eelco Vugs, Oxfam International Director of Safeguarding
Eelco Vugs, Oxfam International Director of Safeguarding, provides strategic leadership of safeguarding across the confederation. Oxfam GB's Global Head of Safeguarding works closely with him in a matrix management relationship to ensure strategic alignment.
Eelco has extensive leadership experience in safeguarding and child protection within governmental and non-governmental organisations (the British Council and Salvation Army among others), including work in Australia, Asia and Europe.
Kate Sayer, Director of Integrity & Ethics
I joined Oxfam in January 2020 to lead the teams responsible for handling whistleblowing reports, misconduct and countering fraud and corruption. I am also responsible for risk and assurance including internal audit. My previous experience was conducting consultancy assignments focusing on improving risk management and decision-making in complex organisations, leading changes in culture to increase levels of compliance with ethical frameworks, and leadership development.
I co-founded the charity specialist audit and advisory firm Sayer Vincent in the 1980s. My work there included investigations into fraud, mismanagement and disciplinary matters and developing governance arrangements for international networks to provide accountability and resource allocation mechanisms.
I am currently Chair of Bond, the umbrella body of UK international development organisations.
Oxfam's Board of Trustees
Oxfam's trustees are ultimately responsible in law for the charity, its assets and activities.
They form the Council of Trustees, which is the governing body of the Association of Oxfam (a not-for-profit limited-liability company). They are appointed because of their commitment to Oxfam and their experience and skills which enable them to undertake the responsibilities of trusteeship of a large and complex charity. 
Reports on council meetings can be found on the plans, reports and policies pages.