Salahuddin Ahmed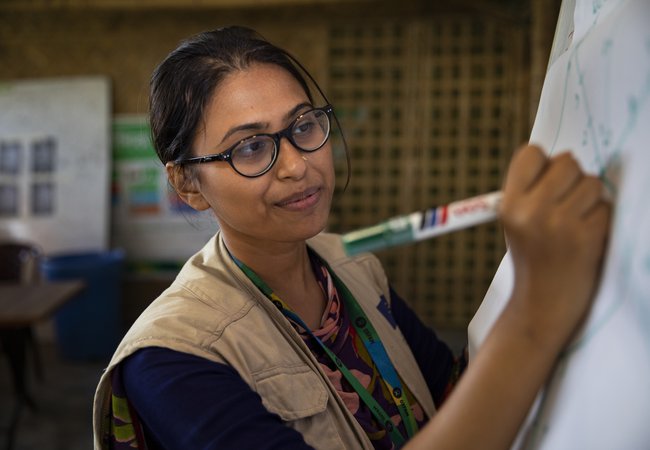 We run regular listening groups where the community can give us constructive feedback."
Iffat Tahmid Fatema, Sr. Innovation Officer, Bangladesh
How Oxfam is changing
A kinder and radically better world is possible. Let's take action to make it happen.
John Wessels/Oxfam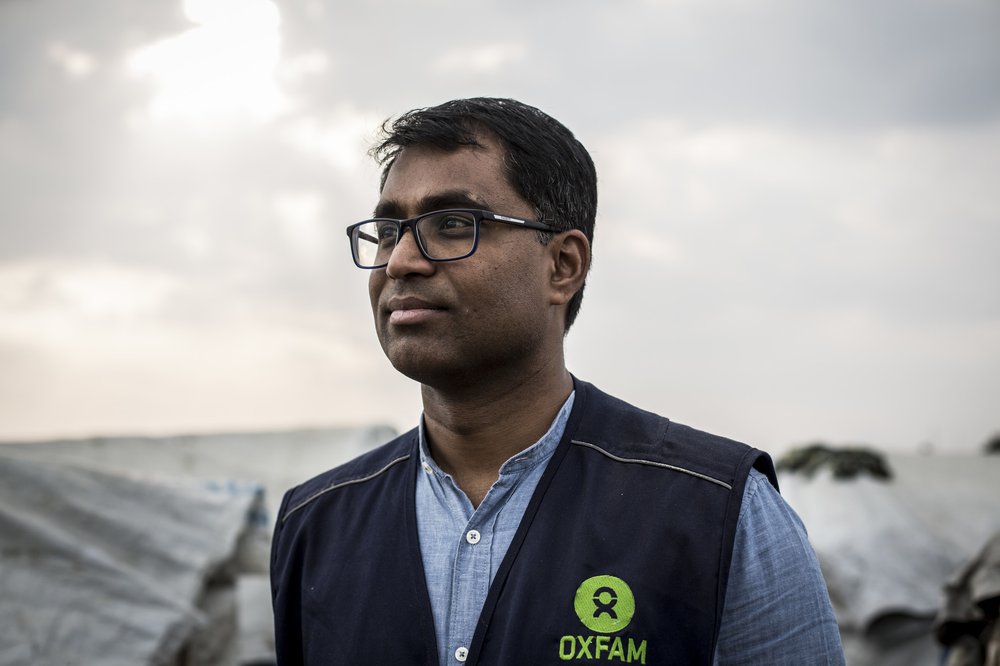 Our vision is of a kinder, fairer world - a world less divided by borders, money, race or gender."

Dhananjayan Sriskandarajah, CEO Oxfam GB
For a radically better world
Since Oxfam first started in 1942 we have challenged the underlying causes of poverty, while supporting people to cope when disaster strikes. These principles are just as relevant today, but global challenges like the Covid-19 pandemic and the climate emergency need us to keep evolving to reflect the threats and opportunities of today's world.
Our new strategy sets out how Oxfam GB believe we can best make a difference to the biggest challenges the world is facing in our efforts to beat poverty for good:
Focusing on where we can make the most radical difference: tackling extreme vulnerability in the toughest places on earth, and challenging the inequalities that drive poverty.
Working more in partnership with communities and organisations around the world who are driving change, supporting them with the resources they need.
Growing a global network that actively shifts spending and decision-making power to the global South.
Bringing together people and groups who feel part of an international community, to help raise vital funds and to shape how they take action.
And how we work will be as important as what we do as we continue to transform to become safe, feminist and anti-racist.
What we'll do
Tackling extreme vulnerability
It's predicted that 80% of people facing extreme poverty will live in the most fragile places on earth by 2030.
We'll urgently focus our work in these unstable and insecure places - where the threat of conflict and violence is high, and there's no basic support for people living in poverty (clean water, healthcare, social protection), despite their incredible resilience and drive for change. We'll offer support and resources to enable people to survive and thrive, and ultimately to challenge the underlying cause of the injustices they face.
Yemen has been in the midst of war for years now. We need to stand with those calling for an end to this war, and secure inclusive and lasting peace."
Awssan Kamal, British Yemeni activist and campaign leader for Oxfam GB
Challenging global inequalities
There are many inequalities that cause poverty the world over. To have the biggest impact, we'll focus on those where we believe we can make the biggest difference. Right now, it's...
Global Inequalities: Covid-19
Coronavirus is impacting lives and livelihoods around the world, deepening the inequalities that keep people in poverty and many more teetering on the edge. We'll push for solutions that prioritise people facing poverty – supporting communities to withstand the threat to their livelihoods, campaigning for debt relief of the poorest countries, and lobbying the governments of those countries to protect people's health and livelihoods.
For two months we stayed at home. I had no income. After easing down the restrictions, we got back to work because of Oxfam's support."
Global Inequalities: climate emergency
Climate change is destroying homes and wrecking lives. And it's hitting the world's poorest communities the hardest – the people who have done the least to cause it. To fight this injustice and reduce poverty, we'll support people to find ways to thrive despite extreme weather. And we'll push governments and corporations for solutions that enable us all to urgently tackle the climate crisis head-on.
I take care of the solar pump. I make sure it stays clean. The whole community is benefitting. I'm so happy."
Global Inequalities: discrimination against women
Women are more likely to carry unpaid care responsibilities that are routinely undervalued. These unfair expectations and discrimination exclude women from safe and secure fairly-paid work. We'll push for women's work - including unpaid care work, like looking after children or the elderly - to be fairly valued and shared, standing up for women's equal right to a life without poverty.
Razigah used to run a small shop, but was forced into bankruptcy. A cash transfer helped her to restart her business. She keeps prices low and margins tight, but can live independently. Image: Kaff Media / Oxfam
I have a grocery shop. I started three or four years ago, when Oxfam helped me with this project... Our life improved, we buy small things that we can afford like cooking oil and other small home items."
Razigah in her grocery shop in Yemen.
Speaking out
We'll always challenge the underlying causes of poverty – from social attitudes to government policies. Time and again, we've seen what we can achieve when we stand together with others and speak out against the injustices that cause poverty.
How we'll do it
Radical, lasting change will only happen if we give as much weight to how we work as to what we do."

Dhananjayan Sriskandarajah
Standing together
We'll work in partnership with communities and organisations around the world
We'll bring together people and groups in the UK who share a sense of international solidarity
We'll connect people and organisations together worldwide, actively shifting power – money, decision-making, influence – to the global South
And we will...
Do everything we can to ensure no one is left behind, power is shared fairly, and we are held to account
In particular, we'll continue on our journey towards being safe, feminist and anti-racist
Elizabeth Stevens/ Oxfam America
Our partners will lead us
In the Philippines, Oxfam has supported local partner 'CDP' to provide equipment and training to local women's groups like Abante Kababayen.

In this picture, Abante Kababayen (meaning 'Forward Women') demonstrate the equipment that helps families evacuate when cyclones threaten their communities.