Aurelie Marrier d'Unienville/Oxfam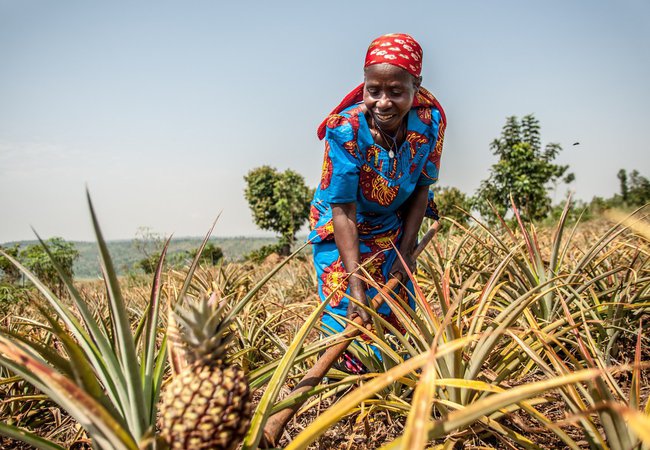 Improving livelihoods for smallholder farmers
According to the World Bank, more than 60% of the world's poorest people make a living from agriculture. Yet smallholder farmers are increasingly exposed to the risks of climate change, extreme weather and economic instability.
Additionally, gender inequality presents a major barrier to advancing sustainable development in rural communities, with women particularly vulnerable to job insecurity, low wages and precarious livelihoods.
Our aim
As part of our work to eradicate poverty and hunger, we want to empower smallholders to improve their livelihoods, ideally to achieve a living income, and access sufficient, nourishing food for their families. We prioritise initiatives to help people build resilience in the face of risk and the increasing impacts of climate change, and through all our efforts, we seek to promote gender equality and decent work while helping farmers to adopt sustainable practices.
Our challenge to companies
Oxfam asks companies to review how their decisions and purchasing practices affect smallholders' ability to make a living income and transform the way they work in order to create positive impacts for smallholders and their communities.
We work with companies of all sizes, particularly in food value chains, to expand opportunities for women and men smallholder farmers, helping them to gain better access to markets, negotiate better contracts, increase production, and add value to their products. This work is fundamental in helping to secure their livelihoods in the face of climate change and resource scarcity.
Beyond this, we campaign for fair, sustainable markets. In particular, we engage with companies and governments to increase the participation of smallholders and farmer-owned enterprises in supply chains and markets in ways that benefit producers.
How we work
Empowering smallholders through the Enhancing Livelihood Fund
The Enhancing Livelihood Fund (ELF) helps Unilever's suppliers to increase sustainable sourcing in ways that both benefit smallholder livelihoods and empower women.
Established in 2015 by Oxfam, Unilever and the Ford Foundation, ELF helps Unilever's suppliers' source raw materials in a way that creates positive social impacts for smallholders, particularly women. Importantly, ELF also helps Unilever to meet its sustainable sourcing objectives while building more resilient supplier relationships.
ELF helps suppliers with technical support and small grants to test innovative approaches to sourcing responsibly from smallholders, with a view to scaling up the most productive approaches;
In India, ELF supported the introduction of mobile education platforms for gherkin farmers to help teach good farming practices. Results show increases in productivity and quality among participating farmers.
In Haiti, we support the Vetiver Together initiative, which helps vetiver producing communities diversify their income by taking part in alternative income-generating activities such as cattle farming.
In the Comoros, the fund supports a fragrance industry initiative to empower women flower pickers in the ylang ylang supply chain.
Raising standards and incomes for rice farmers
We engage with the private sector to improve the rice and organic rice markets and seek to ensure that the Sustainable Rice Platform (SRP) – a global multi-stakeholder initiative to mainstream sustainable rice production standards – is effective in meeting smallholders' needs. As a result of our interaction with businesses, we have seen distinct increases in farmers' income and knowledge of sustainable agricultural practices. For example, rice farmers in Preah Vihear, Cambodia, can now sell their rice at a higher price (20 to 30% more than the market average) because it is certified organic.
Graisea programme
Through our GRAISEA programme, we work across the rice sector in South East Asia and Pakistan, helping rice farmers to improve their practices, raise their yields, increase their income and achieve organic certification.
Similarly, the GRAISEA Programme is active in supporting farmers in the shrimp sector. In Indonesia, we support shrimp farmers in adopting practices that help to conserve the environment and promote workers' rights, in line with the Aquaculture Stewardship Council certification process and also provide training to help farmers comply with local fishery standards. In Vietnam, we've collaborated with local governments and NGOs to increase shrimp production and quality, while working to improve household gender equality. By helping farmers in Indonesia to combine shrimp cultivation with other products like fish and crabs, we have enabled farmers to raise their incomes.
Impacts of GRAISEA:
Influenced gender and women rights criteria to be included in the sustainable rice cultivation standard of the Sustainable Rice Platform,certification guidelines produced by the Aquaculture Stewardship Council, and the smallholder policy of the Roundtable on Sustainable Palm Oil.
Oxfam and partners initiated the CSR Platform Cambodia, mobilising more than 40 companies, chambers of commerce, and CSOs to share their best practices and resources. Now, four out of five leadership positions in the Platform are held by women.
6,264 women and men small-scale producers in four value chains (shrimp, wild catch fisheries, palm oil, and rice) in South East Asia increased their capacity to apply sustainable agricultural practices, responsible guidelines, and gender-sensitive standards.
31 seafood companies in Vietnam have applied gendered CSR Guidelines and Sustainability Reporting, of which 13 companies have reported full compliance to the standards.
Campaigns to benefit smallholders in global supply chains
Oxfam's Behind the Brands campaign (2013-16) assessed the performance of the ten biggest global food and beverage companies on a range of indicators, including relating to their policies and practices relating to sourcing from smallholder farmers in their global supply chains. Oxfam's current campaign, Behind the Barcodes, builds on this by assessing the performance of leading food retailers in the UK, UK, NL and Germany. The metrics developed for the "farmer" pillar in the Behind the Barcodes scorecard provide a useful framework, benchmarks and guidance for food retailers seeking to understand the steps they can take towards more sustainable policies and practices.