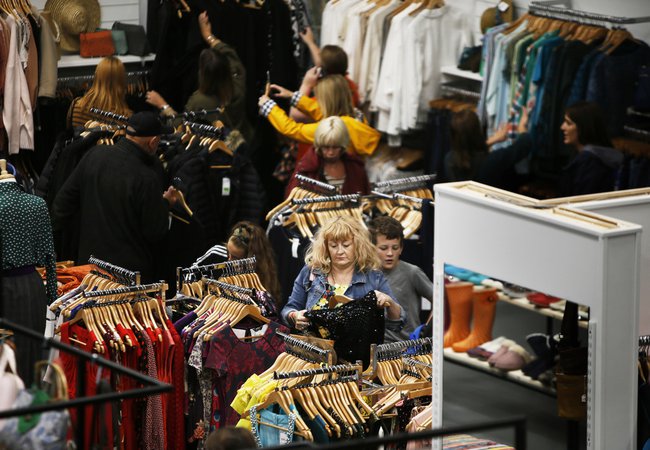 Promoting sustainable fashion
The value of unused clothing in wardrobes has been estimated at around £30 billion. And some £140 million of clothing goes into landfill each year, according to Waste and Resources Action Programme, WRAP.
The rapid, mass production of 'fast fashion' is depleting natural resources, polluting the environment and contributing to climate change, putting many of the world's poorest people at risk. The circular economy – in which waste is transformed into raw materials for new products – offers a vital solution to keeping clothing in use for longer, conserving resources and protecting the climate.
Oxfam promotes the circular economy and sustainable fashion by extending the life of used clothing through reuse, re-sale or recycling, helping to close the loop on clothing waste and raise funds to end poverty. We invite consumers to donate unwanted clothing through our UK charity shops, found on over 600 high streets across the UK, and promote 'pre-loved' clothing as desirable and sustainable, through activities including fashion shows, photo shoots and celebrity donations. Partnering with major companies, including M&S and Sainsbury's, allows us to develop innovative circular solutions, offer a zero-waste option for excess stock, and enable more people to donate clothing through take-back schemes, textile banks and workplace donation points.
Why partner with Oxfam?
Donating consumers' used clothing, excess stock or customer returns to Oxfam helps businesses make progress on circular economy goals and mitigate the harmful impacts of fast fashion, while creating value for people living in poverty. It's a sustainable and transparent process, giving companies oversight of where their clothing goes once received by Oxfam, and how it creates value for people in need. The partnership also paves the way to strengthening brand identity, helping consumers live more sustainably and reducing clothing waste.
Wastesaver: Oxfam's pioneering recycling facility
The clothing we collect is sorted at our Wastesaver facility in Batley, Yorkshire, with a focus on maximising the value of good quality items through re-sale and recycling low grade garments that cannot be sold. Nothing goes to landfill.
Established in 1974, Wastesaver is the only charity recycling facility in the UK. A team of 90 dedicated employees assesses the approximately 40 million items of used clothing we receive each year, carefully classifying each item according to garment and fabric type, and importantly, quality. We continuously explore ways to expand the volume of clothing handled by Wastesaver, promoting the sustainability agenda and raising more funds for Oxfam's work.
End-of-life solutions for clothing
Oxfam shops: To our charity shops, our fast-growing online charity shop, and pop-up shops for festivals and events (with clothing styled for the event), and specialist vintage shops and boutiques.
Fibre-to-fibre recycling: We provide specific fibres or materials for companies seeking particular raw materials, such as cotton or wool, for new products, helping to fully close the loop on end-of-life clothing. M&S sources 'Shwopping' wool for recycled suits, for example. Oxfam is increasingly exploring innovative collaborations to promote fibre-to-fibre recycling as we advance on our own sustainability journey.
Waste for energy: Any items that cannot be reprocessed are sent to Ferrybridge Power Station in Yorkshire, where waste is converted into energy for local homes.
Reprocessing: Low quality items are sold in bulk to be reprocessed into products such as mattress filler and car insulation.
Our partnerships
M&S Shwopping
Through the M&S Shwopping scheme, established in 2008, customers bring their unwanted clothing back to M&S or an Oxfam shop, receiving incentives such as 'points' or vouchers to spend at M&S. The clothing not sold in Oxfam shops is collected and sent to Wastesaver for reuse or recycling. Nothing goes to waste. This award-winning partnership has prevented 34 million garments from going to landfill, the majority of which have been sold for reuse, raising an estimated £22m for Oxfam, including for our work in Bangladesh, Haiti and Liberia.
Sainsbury's textile banks
People can bring any clothing — good quality or worn out — to Oxfam textile banks on 340 Sainsbury's sites. We collect these regularly, ready for sorting at our Wastesaver processing plant. On average, each year textile recycling banks diverts around 15m textile items from landfill, raising significant funds for Oxfam's work and providing a sustainable option for clothes recycling. Through this partnership, we have also launched communications campaigns to shift people's misconceptions around what type of clothing can be recycled.
Many people still think that their unwanted clothes won't make a difference to charities, but at Oxfam we can reuse or recycle almost anything. The items donated through Sainsbury's raise millions, helping us continue our vital work to end extreme poverty around the world."

Fee Gilfeather, Head of Audience and Strategic Planning, Oxfam