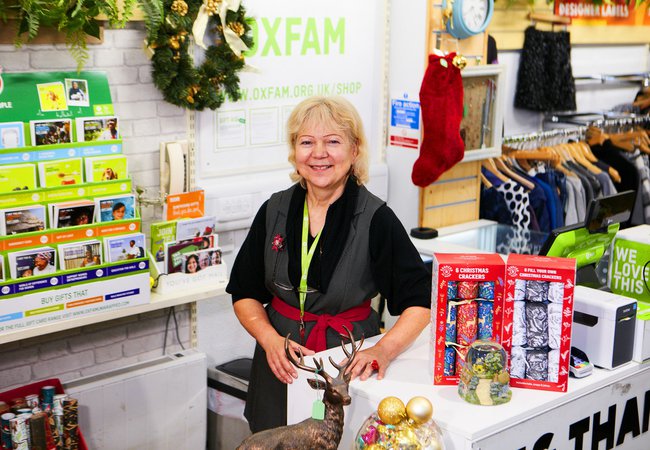 5 reasons to volunteer for us this winter
Looking for volunteering near you? There are more than 560 Oxfam shops across the UK. And plenty of Oxfam volunteering opportunities at your local one this winter
Give as little or as much time as you like
Chat to your local Oxfam shop manager about what's right for you
Watch this video to hear from some of our wonderful volunteers...
Be at the heart of our community
Our shop volunteers are at the heart of our community and are a powerful movement of people united by one goal – an end to poverty, for everyone. Without volunteers like Adam, we wouldn't be able to do the work we do...
A couple of years ago I booked time off work before Christmas and realised I had a lot of free time, so I started volunteering at Oxfam. I really enjoyed helping out and meeting new people so when it came round to January I decided to continue. I now volunteer every Saturday afternoon and when I find myself with time off, I pop in for a couple of hours."

Adam, Oxfam volunteer, Oxfordshire
Here Are 5 Reasons To Volunteer In An Oxfam Shop This Winter…
1. Make New Friends
Volunteering is linked to better physical, mental and emotional health – and helps us feel more socially connected. Volunteer in an Oxfam shop and you'll meet some amazing people at the heart of your community, who are united by a common cause.
It brings out the best in you. Plus, it's another social life from your family or work, it's another social circle. I love it."
Lynn, Oxfam volunteer, West Wickham Oxfam shop
2. Make A Real Difference By Helping Raise Funds For Oxfam's Work
It's the time of year for giving, and what better present to give than the gift of your time? Every shift you volunteer raises vital funds to transform the lives of people living in poverty. It helps people around the world to grow more food, educate their children, and lead healthy, productive lives. You will make a difference by volunteering for as little as four hours a week, on a temporary basis or permanent too. Christmas is the busiest time of the year in the retail calendar, making millions for Oxfam's work beating poverty around the world.
It's not one person on their own who can make big changes in the world… together people can have an impact… who come into the shop really want to help charity to make a difference."
Mary, Oxfam volunteer, London
3. Use Skills And Learn New Ones
Volunteering works both ways. There are so many benefits to volunteering. Whether you're looking to share your knowledge, meet new people, or get valuable experience that looks great on your CV or UCAS form, talk to us, we'd love to talk to you.
You can improve your communication skills and boost your confidence.
I was given quite a lot of freedom to do the visual merchandising, so I gained a lot out of that. Its really nice to be given the creative freedom, you wouldn't really be able to get that anywhere else. It's quite fun really."
4. Support Sustainable Fashion And Join Our Fight Against Climate Change
Oxfam Shops are a great place for buying quality second hand clothes. There are unique sustainable gifts and cards that help beat poverty. And you'll be surprised at how much festive fun you can have helping people find special Christmas presents for their loved ones.
I really like shopping second hand. So seeing all the second hand items and sorting through the donations, it's really fun to me because I just think well, this would just be, you know would be like five times the price on the high street. And it's just so satisfying for me reducing waste and reducing my environmental impact."
Sarah, from the Oxfam West Wickham shop
What better way to support sustainable fashion and our fight against climate change than volunteering? You may even be able to tick off some pressies from your own Christmas shopping list while you're there too!
5. Start The New Year On A Positive Note
With a new year just around the corner, you can get ahead of the game and tick off a resolution before 2022 has even started. If you're in need of some inspiration, Oxfam volunteering could help provide some fresh perspective. You'll find people that you can learn from, and who can learn from you. Maybe you'll enjoy it so much that you want to stay on...
My favourite thing is helping other people, it's like a family."
Oxfam Shop Volunteer, Wagayu.
From window dressing to managing our social media, whatever you choose to do, join a friendly team at the heart of your community. Think you'd enjoy a few hours volunteering this winter?
To apply, visit a store near you or apply online.