Steve Rawlins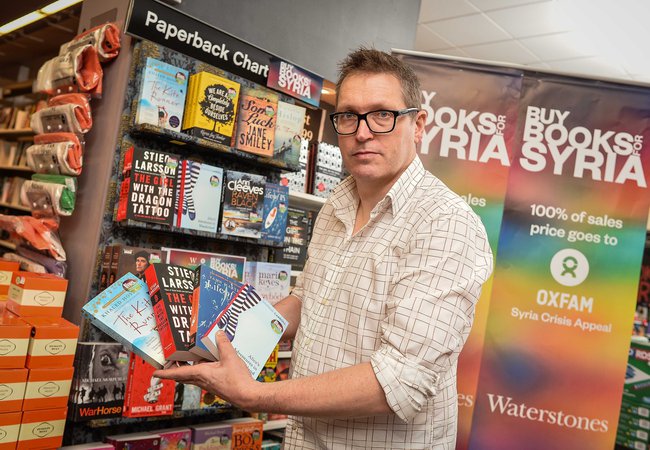 Making social purpose count
Oxfam works with companies to help create authentic, purpose-led brand campaigns that challenge existing ways of thinking and make a real difference for people living in poverty.
While supporting our work, developing strong social purpose helps brands build a deeper, more authentic relationship with consumers, with Unilever reporting that its Sustainable Living Brands are growing nearly 50% faster than the rest of its business.
Through our brand partnerships, we help unlock the power of brands to create a positive social impact, harnessing the passion and expertise of companies' employees and inspiring customer loyalty through tailored engagement opportunities.
Why partner with Oxfam?
Oxfam is one of the UK's most recognised charity brands, with a brand awareness level of 99% in the UK and an extensive network of 650 plus retail shops. Operating in 94 countries, Oxfam's work reaches millions of the world's poorest people. With deep expertise on sustainable development and women's empowerment, we help companies achieve tangible social impact while enhancing their brand identity and customer loyalty. And we raise awareness of our partnerships among our extensive social media community, helping brands further expand their reach.
Engaging employers
A company's employees are its most important asset. Our partnerships also offer exciting opportunities to make a difference, and they're a great way to attract and retain talented staff, promote learning and development and foster team spirit. It's proven to boost employee satisfaction, motivation and morale.
Our partnerships
We have an outstanding record of building successful, high impact corporate partnerships to engage consumers.
M&S Shwopping – Inspiring consumers to live sustainably and raise funds for people in need
Our M&S Shwopping partnership has won awards for six years in a row for inspiring consumers to donate unwanted clothing for recycling. An integral part of the M&S Plan A sustainability strategy, it gives clothing a new lease of life. To date, it has raised an estimated £22m for Oxfam's work and saved 34 million garments from landfill while raising awareness of the benefits of clothes recycling.
Moomins – Helping girls to stand up for their rights
Through our award-winning partnership with the Moomin Characters, we are raising funds to empower vulnerable women and girls in developing communities with a special story, The Invisible Child. Written by the creator of the much-loved Moomins, Tove Jansson, The Invisible Child brings to life the importance of women and girls finding their voices and fulfilling their potential. It's a captivating story of an isolated young girl who goes on an extraordinary journey to discover happiness and equality by joining the Moomin family. Since 2017, the Moomin Characters has donated 80% of the sales of The Invisible Child, raising over £400,000 to support our work helping women to understand their rights, use their voices and fulfil their potential. Our innovative partnership won a Business Charity Award in 2019.
Waterstones – Raising £1m to help Syrian refugees
Together with book giant Waterstones, Oxfam has raised £1 million for the millions of people affected by the crisis in Syria, helping to save lives by providing food and shelter, and delivering safe water to more than 150,000 Syrian refugees. Working closely with Oxfam, Waterstones launched a 'Buy books for Syria' campaign, donating 100% of the sale price of 125,000 books by best-selling authors to our Syria Crisis Appeal. In addition to helping us bring vital aid to people in need, the campaign inspired Waterstones' employees, suppliers and consumers, with more people heading in store and online to find out more. The campaign sparked widespread conversations on social media and generated 23 articles in the mainstream press.
ASOS
In 2018, 38 ASOS employees volunteered 4 days of their time to use their commercial skills to sort stock at Oxfam's Milton Point distribution centre to find products that would sell well online. They then photographed and listed the items onto Oxfam online shop. As well as their support increasing sales for Oxfam, our staff learnt some goods tips from the ASOS team on what products to pick off the sorting line because they will sell well online.
Our staff have loved the Oxfam volunteering opportunity at Milton Point and we would like to come back and volunteer again later this year"