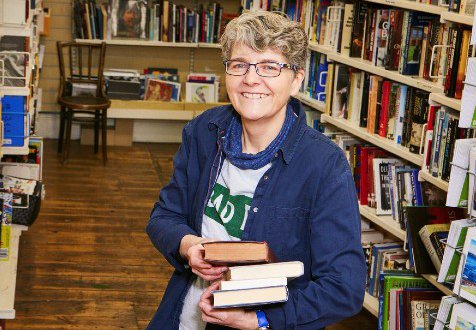 Every single person that works here is really great. We have a lot of fun, we have a sense of purpose."
Helen volunteers at the Marylebone Oxfam shop
Volunteer in a shop
Oxfam shop volunteers make a huge contribution to Oxfam's work, helping people build better lives around the world.
We want to thank our inspiring volunteers fighting poverty in our shops, at festivals, in schools and so much more.
Volunteers are the heartbeat of our movement to end poverty around the world. Thank you for your commitment then, today and in the future.
Interested in volunteering in a shop?
If you're interested in volunteering, we need your help now more than ever. To get involved, please complete the form below. As this is such a busy time, please be aware that it may take us a little longer than usual to come back to you. If you have any questions about your application or volunteering with us, you can contact shop support on 0300 200 1333 (Monday-Friday, 9am-5pm). Thank you.
Shop volunteer roles
We have a range of standard roles and some more specialist roles. We like to give volunteers an opportunity to try a range of areas before they find something that suits them. You might become a Shop Volunteer, Bookshop Volunteer or Music Shop Volunteer. Or you might find yourself in a more specific role such as a Social Media Volunteer, an Admin Support Volunteer, or even a Lead Volunteer.
Whatever your skills or interests, there's something for everyone.
Speak to your local Shop Manager during the selection process so you can see what would be a good fit for you.
The team is super friendly and there are lots of different people of different ages and backgrounds so it is very interesting to meet people and have the opportunity to chat with them."
Sonia, volunteer at Bethnal Green shop, pictured with fellow volunteer Llaure
Already a shop volunteer?
There are lots of ways you can stay connected with Oxfam and fellow members of our shop volunteer community.
Join our Shop Volunteer Newsletter
Our dedicated shop volunteer newsletter will keep you informed with news and updates from across the shop network. You can sign up here
Join our Facebook group
Our shop community Facebook group serves as a space for volunteers to share tips and connect with each other. Oxfam staff will also use the space to share updates on our work, upcoming training sessions, informative talks and activities to get involved with. Please note, you will need to be over 18 and an existing Oxfam shop volunteer to join this group. You can sign up here
Give us a call
If you have any questions or thoughts you want to run by us during this time, or just fancy a chat, we are here to listen. Our dedicated supporter relations team are available to call from 9am to 5pm, Monday to Friday UK time on 0300 200 1300.
Safer recruitment statement
Our values and commitment to safeguarding
Oxfam is committed to preventing any type of unwanted behaviour at work including sexual harassment, exploitation and abuse, lack of integrity and financial misconduct; and promoting the welfare of children, young people and adults. Oxfam expects all staff and volunteers to share this commitment through our code of conduct. We place a high priority on ensuring that only those who share and demonstrate our values are recruited to work for us.
We are committed to ensuring diversity and gender equality within our organisation and encourage applicants from diverse backgrounds to apply.