Marks and Spencer and Oxfam Shwopping
Shwopping. Ordinary Clothes Made Extraordinary.
Oxfam and M&S launched Shwopping to make it even easier to give your unwanted clothes a second life.
Every Shwopped item makes a difference and Oxfam knows how to make the most money out of every single item. Unwanted clothes donated by the public to Oxfam shops or in M&S stores are turned into millions of pounds every year – whether by selling them in our shops, selling them overseas or recycling them.
There are two ways to go Shwopping
1. Donate your unwanted clothes in Oxfam shops
Bring in your unwanted clothes and receive a £5 M&S voucher off a £35 spend on clothing, home and beauty products in M&S stores as long as your donation contains at least one item of M&S labelled clothing or M&S soft furnishings (excludes sale and clearance items).
2. Donate your pre-loved clothes to us at M&S
Next time you pop into M&S, put any item of clothing you no longer wear (even if it's not from M&S) into one of the 'Shwop drops'.
Here's what happens to your Shwopping donations
Since the partnership began in 2008, right up to 2021, over 35 million garments have been donated in M&S and Oxfam Shops, worth an estimated £23 million for Oxfam.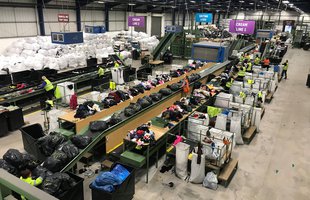 Recycled
Clothes we can't resell or reuse are sold in bulk to reprocessing companies to be reborn as mattress filling or carpet underlay.
Perfect partners
Oxfam and M&S are perfect partners. M&S knows Oxfam makes the most of every donation. And here at Oxfam, we know M&S is committed to reducing the number of clothes that end up in landfill – plus they're big supporters of our work fighting poverty.
However you choose to shwop – whether it's by bringing your unwanted M&S clothes to Oxfam or by dropping off your old clothes at M&S when you buy something new – it's an extremely convenient way to donate to Oxfam.
Terms and conditions for Shwopping in Oxfam shops
You'll be given a £5 voucher when you make a donation to an Oxfam Shop and the donation contains at least one item of M&S-labelled clothing (including shoes, handbags, belts, hats and scarves) or M&S-labelled soft furnishings (bed linen, towels, cushions, curtains, throws, aprons, tablecloths and napkins). This offer does not include donations of the following M&S clothing: swimwear, underwear, socks, or damaged or soiled items. Only one voucher will be issued per visit.
Vouchers are subject to M&S's terms and conditions which are detailed below.
The voucher entitles you to £5 off when you spend £35 or more on clothing, home and beauty products in participating M&S stores, excluding sales and clearance items.
In the Republic of Ireland the voucher entitles you to €7 off when you spend €50 or more on clothing, home and beauty products and is valid in participating Marks & Spencer stores in the Republic of Ireland, excluding sales and clearance items.
Only one voucher can be used for each transaction of £35 (€50) or more.
The voucher is redeemable only during the calendar month stated on the voucher.
The voucher is not redeemable against sales and clearance items, Gift Cards and vouchers, Schoolwear, M&S tailoring services, Made to Measure shirts, Personalised Cards, M&S Energy and M&S Money products and services.
The voucher is valid in selected Marks and Spencer stores in the UK and Channel Islands (excluding M&S Stores located in airports, railway stations, motorway services, hospitals and at BP Connect as well as M&S cafe, M&S Food to Go takeaway counters, Delis, Kitchens and Restaurants).
The voucher cannot be used in conjunction with any other M&S discount voucher or code.
Discount will be applied after any other applicable M&S promotions.
Valid in store on presentation of the original voucher at the till at the time of purchase (voucher must be handed in on redemption).
Spend £35, save £5 offer can only be redeemed once in store by the same account holder within the period of validity (even if you have more than one voucher code).
The voucher can only be used once in a single transaction in store.
One voucher only per transaction.
Voucher is strictly non-transferable and cannot be sold or exchanged for cash.
Placing this voucher for sale/auction on any website is strictly prohibited and renders the voucher void.
Cannot be used to pay Credit Card or Chargecard balances.
Refunds will take into account this discount and no credit will be given for the value of the voucher.
Marks & Spencer reserves the right to reject the voucher/code with reasonable cause.
M&S cannot accept responsibility for lost, stolen or damaged vouchers.