David Azia / Oxfam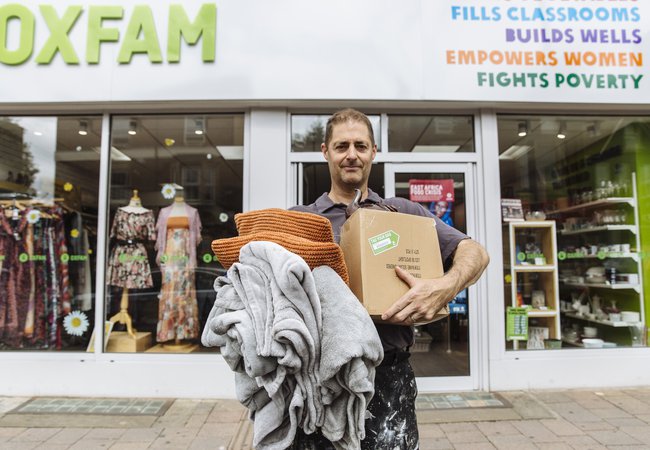 What you can donate to our charity shops
Your unwanted items could give someone the support they need to create a future free from poverty. Find out what we can and can't turn into life-changing cash.
What we can sell
Good condition, clean clothing - including children's clothing, vintage clothes, and out of season items
Shoes in pairs of all styles
Accessories, including bags, non-prescription sunglasses, belts, hats, scarves and gloves
Jewellery, including watches
Antique and collectable items
Music (CDs, vinyl, musical instruments and sheet music)
DVDs and Blu-rays
Homewares: china, kitchenware, ornaments, pictures, and more 
Soft furnishings: small rugs, linen, curtains (must be clean and in good condition) 
Knitted items and blankets
Wedding dresses and accessories
Furniture
Stamps (including used stamps) and foreign coins and notes
Cameras
Ephemera
Any unwanted gifts, including toiletries and beauty items (new and unused)
Bedding, if in good condition
Tents, if in good condition
What items do charity shops not want
Electrical goods that run off the mains (a few shops do accept these, so please check before donating)
Medical equipment
Anything broken, dirty, incomplete or unsafe
Single computers (but we would be happy to hear from your company if you would like to donate multiple units)
White goods (cookers, washing machines etc)
Safety headgear (e.g. motorcycle crash helmets)
There are some other items that we cannot sell for safety or legal reasons. If in doubt, please ask your local Oxfam shop before donating.
Identifiable work uniforms  
Unsure?
Please donate anything else you think will raise money for Oxfam. Be imaginative! But if you're still unsure then please ask your local Oxfam shop, or call Shop Support on 0300 200 1333.