'Pre-loved Gifts' on display at Oxfam Superstore in Cowley, Oxford. Credit: Andy Doherty / Oxfam.

Donating clothes
Ready to raid your wardrobe? Not sure how to donate your clothes? You're in luck! There are several ways to donate clothes to Oxfam…
Donate clothes to charity at your local Oxfam shop
Our high street charity shops are a great place to donate clean clothes and accessories in good condition. We can sell clothes donations and other donated items in our shops or online to generate money to help fight poverty.
Shop front and window display at the London Road shop in Brighton. Credit: Gabi Torres / Oxfam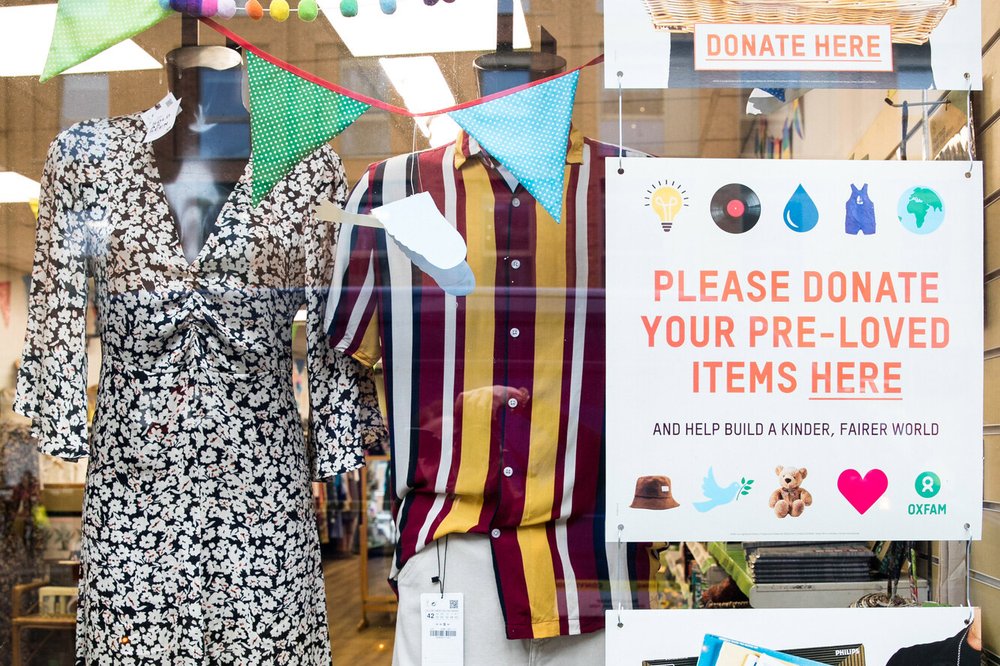 Donate clothes to charity by post
If you can't easily travel to your nearest Oxfam shop, you can donate your clothes by using our donation bags to donate clothes by post for free.
You can include any of the items that Oxfam accepts with your donation.
Simply order a postbag, fill it with any items you'd love to go to a new home and send it back via Yodel for free! Your donated items will be listed on Oxfam Online Shop.
Clothing donated to us by post will be sold mostly on Oxfam's Online Shop or at pop-up shops at festivals.
Maximise the money we can raise on your designer and vintage clothing, as well as high street brands by donating by post.
Donate clothes to clothes banks or textile banks
Which types of clothes can I donate to charity?
Good condition, clean clothing - including children's clothing, vintage clothes, and out of season items
Shoes in pairs of all styles
Accessories, including bags, non-prescription sunglasses, belts, hats, scarves and gloves
Jewellery, including watches
What types of clothes are not accepted?
We cannot accept identifiable work uniforms. These cannot be resold. We ask that you wash clothes, unless they're brand new.
Can Oxfam bookshops accept clothes donations?
Ana, Shop Volunteer at our Islington shop, fills in a Gift Aid label. Credit: Emily Stein/Oxfam.
Adding Gift Aid to your donated clothing and accessories
Every time you Gift Aid your donations, you can make them worth 25% more when they sell – making every penny count towards fighting poverty.
Simply sign up online to receive your welcome pack in the post or visit your local shop and sign up on the spot. You'll be given a unique donor number to tag your bag of donations with, allowing our shop teams to track each item you give and claim that life-changing extra 25% when they sell.
Visit our dedicated Gift Aid page to learn more and sign up.
Clothes recycling
Our partner CTR, and Oxfam's own operation in Batley, sort clothing to maximise revenue from textiles that cannot be resold in our shops and minimise the amount sent to landfill.
Every item can be used to make money for our poverty-busting work, including being sold on Oxfam's Online Shop, in our Oxfam Festival Shops, or selling them onto fashion designers who restyle garments and reuse fabrics.
Damaged or low grade items can be sold to recycling traders so they can, for instance, be turned into car soundproofing or mattress stuffing.
Andrew volunteers in the Earlsfield shop. Credit: Gabi Torres/Oxfam.
Donate your Wedding Dress
Oxfam has eight shops with bridal departments stocked with good quality fashionable bridal wear and accessories, new and pre-loved. Find your nearest bridal shop to donate your pre-loved bridal and occasion wear.
Buying clothes from Oxfam
Cleared out your pre-loved clothes? If you're looking for something new, we have a huge range of clothes and accessories for sale in our shops, and online.
Buying clothes second hand is a great, sustainable way to shop that has less impact on the environment while encouraging you to be mindful about the the clothes you wear.
Our charity shops and online shop are of full of unique second hand items that you won't find on the high street, and by choosing to buy second hand, you'll be saving money too!