Fight against climate change
The drought is real. We are affected by it now."
Mako is farming in Ethiopia
Fight against climate change
Climate change is affecting millions of the world's poorest people, right now.
We could say it's the same fight, fighting climate change and fighting poverty.
More frequent and extreme weather – such as storms and droughts – are destroying homes, and wrecking lives and livelihoods. What's more, the world's poorest people have done the least to cause it.
Over recent decades there's been huge progress in the fight against poverty. But climate change is threatening to reverse this progress. In fact, Oxfam believes that the climate emergency is the biggest, most urgent threat to the fight against poverty.
It is an injustice that can and must be stopped.
This is my garden, where I had ploughed and grown some crops, but due to lack of rainfall everything I planted has since wilted."
Mpumelelo Somfula in Zimbabwe
In Zimbabwe rains used to come regularly. People named the rains every year. They've stopped doing that because the rains come late or there's a little trickle before dry spells.
Farmers like Mpumelelo are left guessing when they can plant. They're also having to shift away from crops they're very used to growing - like maize - to newer, smaller grains.
We work with small-scale farmers to help them have access to drought-resistant seeds. Seeds that are locally adapted.
What do Oxfam campaign for?
Oxfam is a member of the Climate Coalition, the UK's largest group of people dedicated to action against climate change
We push rich countries with high emissions to stop contributing to the problem. To live up to their commitments to fund solutions
Every year Oxfam runs #SecondHandSeptember - asking people to only clothes shop second hand for 30 days
Climate change
20million
people a year were internally displaced by climate change in the past 10 years
10%
The richest 10 percent of people in the world produce around half of global emissions. The poorest half of the world's population - 3.5 billion people - is responsible for just 10 percent of carbon emissions.
30years
The number of climate-related disasters has tripled in 30 years. By the 2030s, large parts of Southern, Eastern and the Horn of Africa and South and East Asia will experience greater exposure to droughts, floods and tropical storms.
Petterik Wiggers / Panos for Oxfam America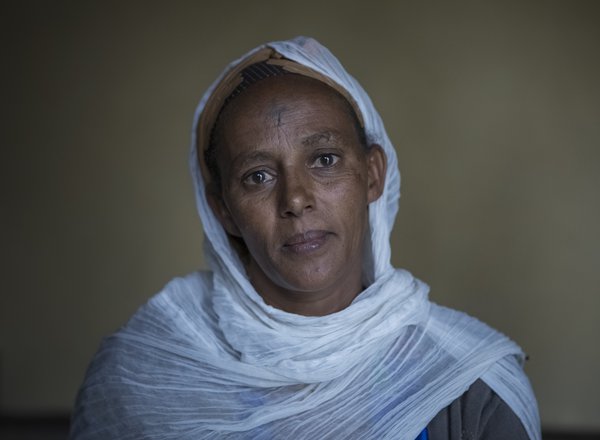 £60 could provide high quality seeds to farming families
Help more women like Birhan
I wasn't poor as an animal herder, but I became poor after the drought. I lost so many livestock. That's why I started farming.

Birhan