Moomins. A sketch from The Invisible Child by Tove Jansson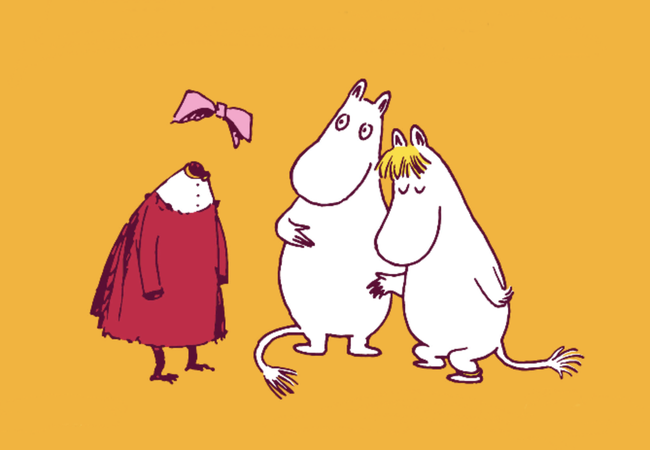 Oxfam and Moomins
Since 2017, Moomin Characters and Oxfam have raised an amazing £3m to tackle poverty and inequality around the world.
Moomin and Oxfam join forces for women and girls
The partnership began with The Invisible Child campaign, which raised over £1 million for Oxfam's projects supporting women and girls worldwide.  The campaign centred around Moomin creator Tove Jansson's short story The Invisible Child, about a little girl called Ninny who turns invisible after being badly treated by the woman supposedly caring for her. When Ninny is shown warmth, kindness and respect by the Moomin family, she gradually reappears and regains her rightful place in the world.
Exclusive edition book to fund women's empowerment work
The partnership saw The Invisible Child published as a standalone title for the first time. The special edition book was sold exclusively through Waterstones and Oxfam shops, with at least £4 from each £4.99 sale being donated to support women's empowerment projects around the world.
The campaign was a huge success, with the book selling more than 60,000 copies and needing to be reprinted just three days after launch. A special audiobook read by Bill Nighy was downloaded over 22,000 times in its first three weeks.
Justice – shared values are core to partnership
The values woven into Tove Jansson's stories – justice, compassion, kindness – perfectly echo what Oxfam represents and fights for every day.  We believe that every woman and every girl deserve the right to be visible and have their voices heard.
After the success of the original campaign, Oxfam has continued to sell a range of Moomin products through Oxfam shops and online, including stationery, kitchen and homewares and other Moomin books. Each item is carefully sourced and celebrates our shared values of love, tolerance and equality.
We are delighted to have been able to use Tove Jansson's moving short story to raise such a wonderful sum for Oxfam, and to highlight the importance of ensuring all women and girls have a voice. In The Invisible Child, a little girl who has become invisible because of mistreatment slowly becomes herself again after being shown kindness from the Moomin family. We hope that many women and girls around the world will be able to do the same with the help of the Oxfam initiatives this fundraising supports."

Roleff Kråkström, managing director of Moomin Characters.