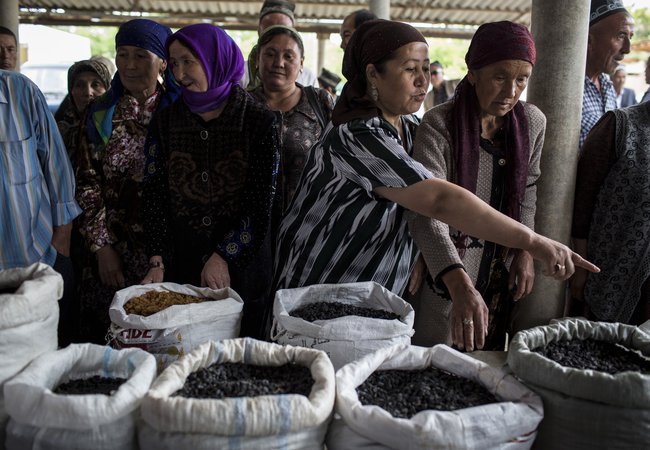 My knowledge is my power. I am empowered by what I know."
Grape farmer, Buvrajab, sells raisins in Tajikistan
Annual report and accounts 2019/20
Last year, Oxfam supporters helped 11.3 million people fight poverty.
With your support, we provided life-saving supplies to families hit by the world's worst conflicts and natural disasters. And we helped communities around the world get clean water running, earn a fair wage and campaign for change – not just to fight poverty now, but to beat it for good.
Together we achieved so much last year
Working with our partners to reach over 800,000 people whose lives were affected by Cyclone Idai in Mozambique, Zimbabwe and Malawi.
Collaborating with The Humanitarian Innovation Fund to design, field test and manufacture a unique new handwashing station for emergencies, which we plan to roll out internationally.
Maintaining 52% of our work around the world with women, helping to fight the discrimination that keeps people poor.
Supporting a legal case which resulted in the UK Government pausing licences to sell arms to the Kingdom of Saudi Arabia, which are being used in the conflict in Yemen.
Mobilising 62,000 people to take part in Oxfam's first Second Hand September to help highlight the detrimental impact the fashion industry can have on people and planet.
The pandemic took hold at a time when we were already reimagining Oxfam GB's future. Our new strategy remains firmly rooted in this wonderful 78-year-old organisation's founding principles – to tackle poverty and suffering both by providing support and by challenging the underlying causes. And it seeks to lay the foundations for a radically better world where everyone can survive and thrive, from a schoolgirl in war-torn Yemen to a farmer experiencing climate-related droughts in Zimbabwe."

Dhananjayan Sriskandarajah, CEO, Oxfam GB
How we spend our money
84p out of every pound we spent during 2019/20 was spent fighting poverty, excluding the costs of running our high street and online shops:
84p went towards helping beat poverty worldwide.
9p went towards our running costs.
7p went towards raising the next £1.
I am spraying open drains, roadside, market place, corners of tents, everywhere. A group of us are doing our duties while wearing protective gears. We are doing this to stop the spread of coronavirus in the camp."
Oxfam staff member Abul Alam helping prevent the spread of Covid-19, before Cyclone Amphan hit Bangladesh