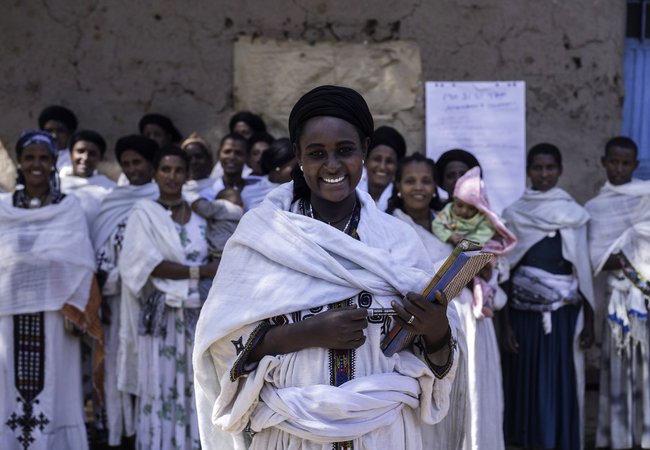 For me, poverty is not having the freedom to work and go out of the house, but this project gave us the freedom to work and to earn..."
Addise, Beekeeping Cooperative Secretary, Ethiopia.
Annual report and accounts 2020/21
Last year, Oxfam supported 13.1 million people to fight poverty.
With your support, we provided life-saving supplies to families hit by the world's worst conflicts and natural disasters. And we helped communities around the world get clean water running, earn a fair wage and campaign for change – not just to fight poverty now, but to beat it for good.
Together we achieved so much last year
With the pandemic pushing millions more people into poverty across the world, Oxfam has worked with communities and partners across the world to help protect people from both Covid-19 and its economic fallout.
Oxfam GB established the People's Vaccine Alliance with partners to call for Covid-19 vaccines to be available for all. It now has more than 75 members. In Kenya, cash assistance was provided to people who had lost their income due to lockdown.
In 2020/21 Oxfam raised £105m through donations and legacies and online sales grew by 46% to £7.6m - thanks to supporters like you
50,000 uses of Oxfam's Second-Hand September hashtag, to promote more sustainable fashion both for people and the planet and over 60,000 downloads of our free educational resources to support global learning in the classroom and at home.
Oxfam reached 400,000 people through programmes related to gender justice and a further 200,000 people through programmes related to climate justice.
As Covid-19, climate change and conflict continue to increase hardship and poverty around the world, Oxfam's lifesaving and life-changing work is more needed than ever. Despite financial and logistical challenges related to the pandemic, I am proud that last year we supported more than 13 million people to survive disaster and build a better future. We are hugely grateful for the generosity and compassion of people across the UK who make this work possible. I want to pay particular tribute to our amazing volunteers who were tireless in their efforts to raise funds online while our shops were closed."

Dhananjayan Sriskandarajah, CEO, Oxfam GB
How we spend our money
This year, 77% of Oxfam's total expenditure was spent on these charitable activities:
Development
Humanitarian
Campaigning and advocacy
By charitable activities we mean that it is directly related to Oxfam GB's purpose to help create lasting solutions to the injustice of poverty.
In addition, we spent 17% on our retail activities. We spent the rest of our money on the vital support required to keep our operations running and raising future income to sustain our work.
In 2020/21 for each £1 spent on raising donations and legacies, we raised £5.04.
I am happy to provide support for my community. If we do not provide our services and stop spreading message how to fight against corona virus there will be more cases of Covid in the camp and more people will die. This is why I am working in the field."
Oxfam volunteer Zahid Hossain (20). Cox's Bazar, Rohingya refugee camp, Bangladesh.